Starting today, Oga's Cantina requires that all guests make an online reservation to get into Disneyland's first-ever bar. As we saw during the 4-hour reservation period in the first few weeks of operation, Oga's Cantina proved to be one of the most popular spots within Star Wars: Galaxy's Edge. As a result, Disneyland has announced that guests will only be able to get into Oga's Cantina with an advance reservation. For all intents and purposes, this reservation functions like any other advanced dining reservation. Here are the details that you need to know to give yourself the best chance to experience the only bar on Batuu.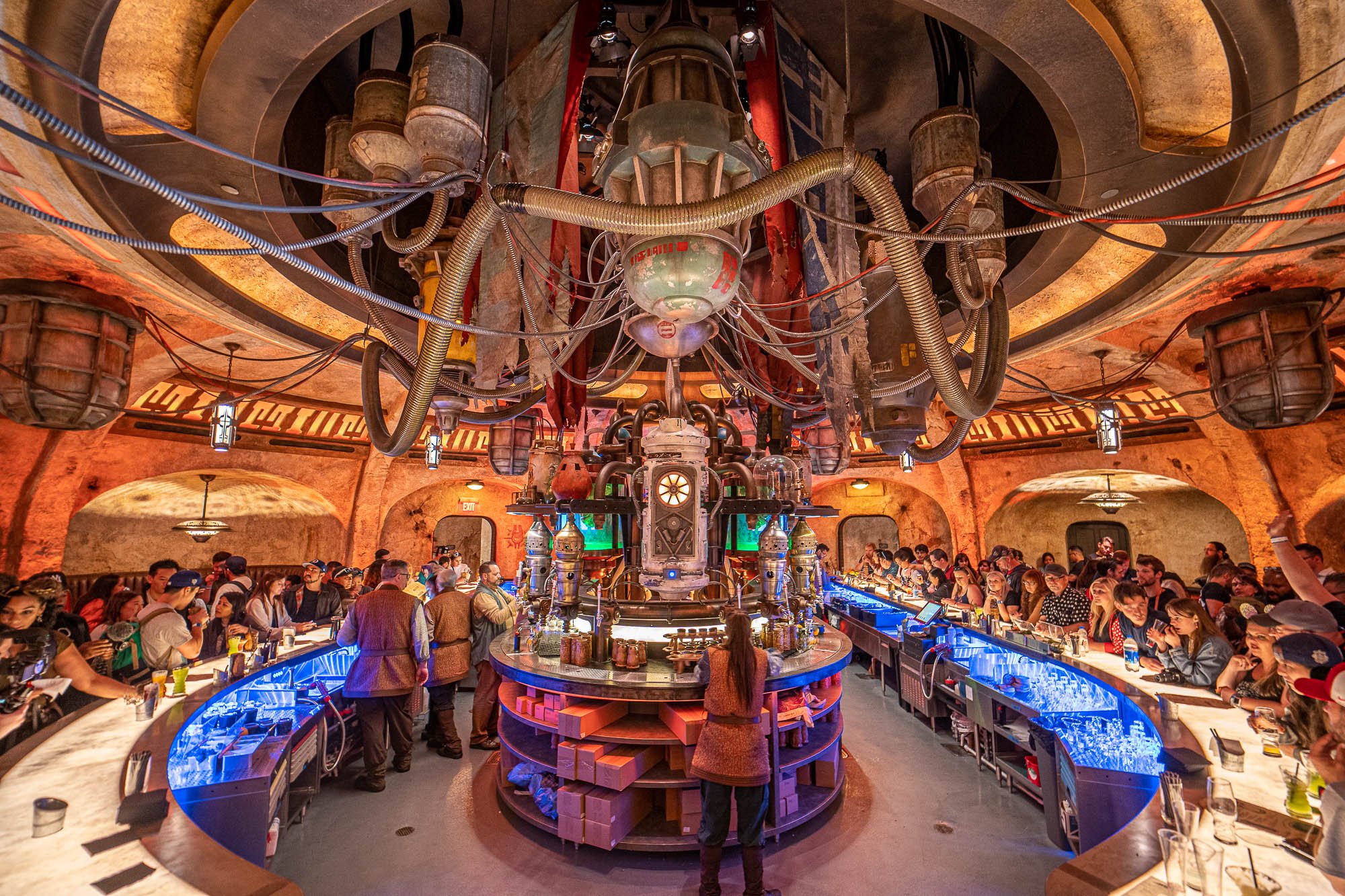 Making a Reservation
First, know that reservations open at 7am PST. You can make reservations either on the Disneyland mobile app or on Disneyland.com. We highly suggest waking up early to make your reservations as they will likely go quickly.
Next, only same-day reservations are available. This is one of the most important differences between Oga's Cantina reservations and regular advanced dining reservations. By only allowing same-day reservations, Disneyland essentially levels the playing field every morning.
Note that on the first day that reservations were required, Oga's Cantina sold out of all time slots by 7:30am according to the Disneyland website, 30 minutes before the park officially opened. Getting online by 7am PST is crucial to giving yourself the best shot of getting in to Oga's Cantina. You should also be logged into your Disney account before the 7am PST reservations are released.
A valid, accepted credit card number is required at the time of booking. A fee of $10 per person will be applied to that credit card if you fail to check in for your reservation. Cancellations are not allowed.
Not allowing guests to cancel is probably the most unexpected parts of this process, but by doing so, Disneyland ensures that only guests who intend on following through with the reservations get them. At least one person in the party must be 14 years of age or older.
Checking In
Disneyland suggests that guests don't check in earlier than 15 minutes prior to their reservation time with the Cast Member at the end of the existing queue. Guests will be admitted as soon as space that accommodates their party size becomes available. Each person in the party must be present upon check-in and admission to the cantina. Note you may have to wait in a line to get into the cantina after you check in for your reservation time. If the virtual queuing system is being used, Guests with reservations for Oga's Cantina may enter the land up to one hour prior to their reservation time at the Fantasyland entrance to Star Wars: Galaxy's Edge.
Be prepared to present your reservation confirmation email, photo ID and the credit card provided at the time of booking the reservation. Late arrivals may not be accommodated.
Oga's Cantina consists mainly of standing room, with limited seating. Seating is not guaranteed upon entry, and separate parties may be seated together.
Guests must be 21 years of age or over to consume alcohol; valid photo ID is required. There is a maximum of 2 drinks per guest. A limited menu of snack offerings will be available.
---
For a complete Oga's Cantina review of all the drinks you can enjoy, check out our full review.