In an investor call yesterday, Disney CFO Christine McCarthy made some interesting comments relating to how Disney will spend money on their theme parks in the next year. Before we jump into the article, we'll start with a direct quote from McCarthy as she discusses capital expenditures spending at the theme parks for fiscal 2022, which began in early October.
…we also expect that while we continue to pursue strong cost mitigation efforts, certain costs will be elevated in fiscal '22 versus pre-pandemic levels, including, for example, inflationary pressure on wages, costs related to new projects and initiatives such as Star Wars: Galaxy Edge, Avenger's Campus, and the EPCOT expansion…
While two of the projects that McCarthy listed are expected, one stands out like a sore thumb – Star Wars: Galaxy's Edge. Let's briefly discuss the other two projects first.
EPCOT Expansion
There's no doubt that Disney will need to ramp up spending for EPCOT. The front half of the park is basically comprised of construction walls and dirt. While Disney did recently open the Creations Shop gift shop and Space 220 Restaurant, there is a lot of work left to be done and very little time left if Disney wants to get it done in time for EPCOT's 40th Anniversary in October 2022.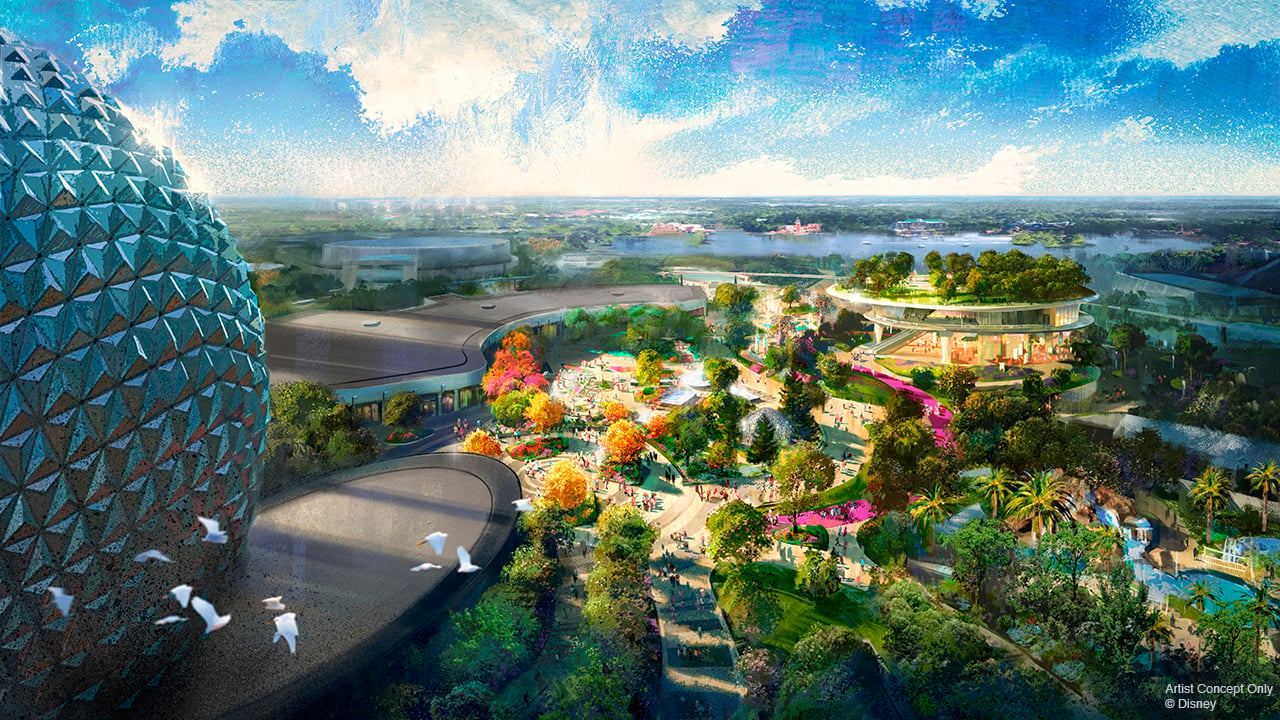 Avengers Campus
While Avengers Campus is open to guests, it's not completed. Construction for the main E-Ticket attraction within the land has not yet begun, so perhaps McCarthy's comments could be interpreted as confirmation that the attraction is still on the way and Disney will begin throwing money at the project.
Star Wars: Galaxy's Edge
This brings us to Star Wars: Galaxy's Edge – a land that was completed and opened to the public at both Disneyland Park in California and Disney's Hollywood Studios in Orlando back in the summer of 2019. Just like Avengers Campus, Star Wars: Galaxy's Edge was not technically complete when it opened to the public – the main attraction was not ready to open until months later. That said, Star Wars: Rise of the Resistance has been open now to guests for some time, and Disney has not announced any new projects or expansions to the land…perhaps until now.
When it was announced, Star Wars: Galaxy's Edge represented all of the ambitions and learnings of more than 50 years of Walt Disney Imagineering (WDI), Disney's creative branch. While the land itself is undoubtedly very impressive and Rise of the Resistance is universally praised as the best attraction WDI has ever built, there are numerous unrealized portions of the originally announced plans that never saw the light of day. For a recap, check out our Expectations vs Reality article below.
Now, with new comments from McCarthy, we have to wonder what Disney might have up its sleeve as it relates to the future of the land. Let's explore some concepts that Disney could build.
The Kalikori Club
The Kalikori Club is the name of an unrealized table-service restaurant concept. The restaurant would've been located "behind" Oga's Cantina – a space that still sits vacant to this day.
You can see the empty backstage area behind Oga's Cantina (circular roof).
Unnamed Attraction
Another announced, but never-built project included a slow-moving ride atop of a quadruped named Elee (informally "Bantha ride").
Here's a behind-the-scenes video on how the attraction might have worked.
Bounty Hunter Ride
Another early concept involved a Bounty Hunter chase ride where guests could act as a Bounty Hunter and be chased down by authorities.
Speeder Bike Race
Yet another attraction wouldn't put guests on the back of a speeder bike and have a chase scene where Stormtroopers would engage.
---
Unfortunately, at this point, all we have to go off of is the single quote from Disney's CFO that hints at expansions, but confirms increased spending within a themed land that has no announced new projects.
Disney Parks Chairman Josh D'Amaro will be talking about the future of the theme parks in a Destination D23 panel on November 20th. Perhaps we'll learn more then.
As always, keep checking back with us here at BlogMickey.com as we continue to bring you the latest news, photos, and info from around the Disney Parks!