We're back with another look at the Early Entry perk for guests, this time we're heading to Magic Kingdom to try a rope drop strategy that doesn't involve Seven Dwarfs Mine Train. The idea here is that we'd either purchase an Individual Lightning Lane or wait until closer to park close to experience Seven Dwarfs Mine Train with a short wait instead of trying to be one of the first guests on during rope drop. There are really three attractions that build a large queue quickly in the morning – Seven Dwarfs Mine Train, Peter Pan's Flight, and Jungle Cruise.
For this article, our plan is as follows:
Peter Pan's Flight
Space Mountain
Jungle Cruise (at park open)
If we can ride all three of these attractions during Early Entry, we'll have knocked two of the longest queues out of the way early, and blasted through Space Mountain without paying for an Individual Lightning Lane. Let's see how the morning went!
For a look at our other recent Early Entry experiences, check out our articles below.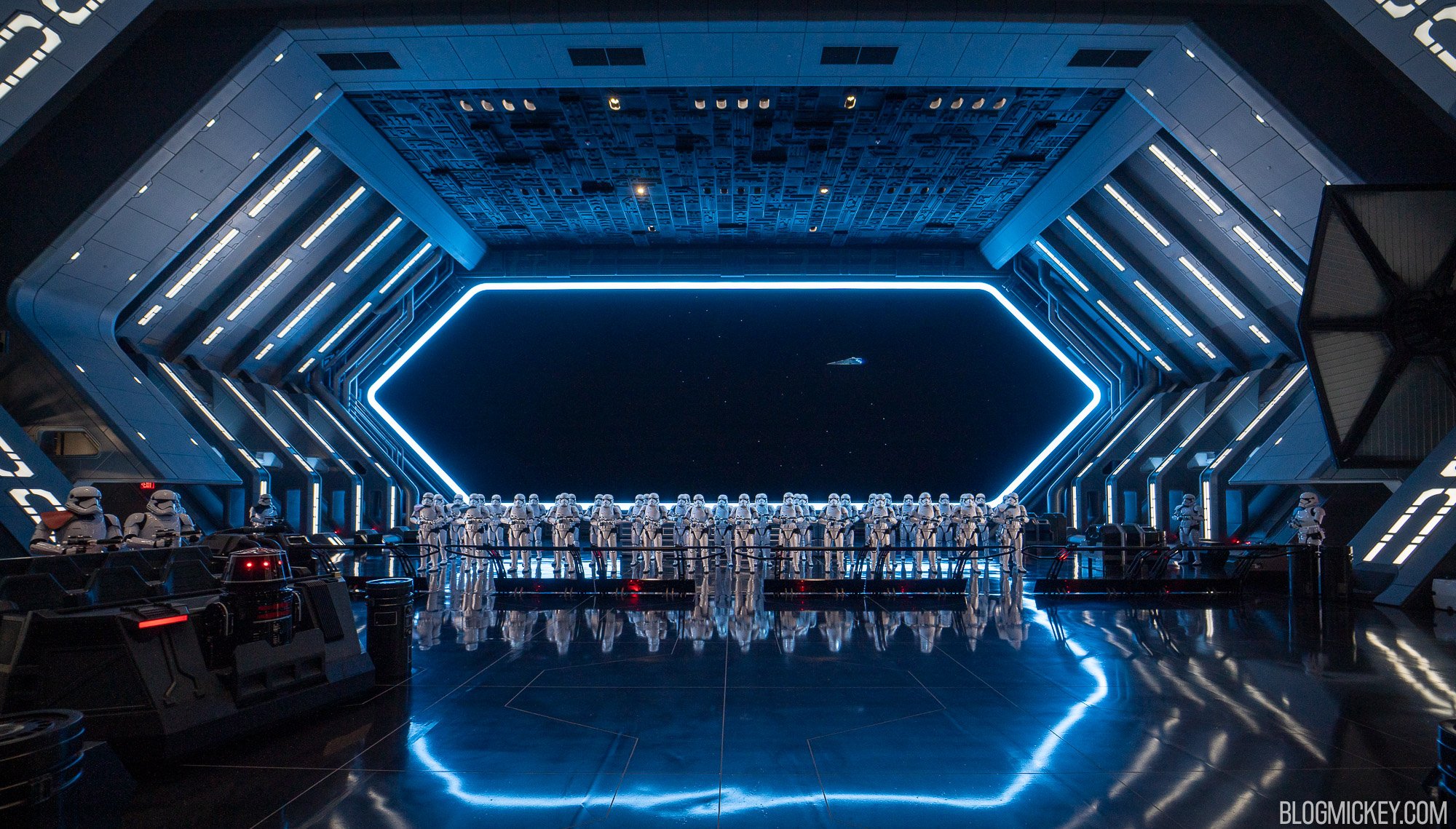 What is Resort Guest Early Entry?
As part of The World's Most Magical Celebration, Guests staying at Disney Resort hotels and select other hotels can take advantage of a 30-minute early entry into Walt Disney World theme parks every day.
Valid admission and a Disney Park Pass for the park that you want to visit are required. You'll also be asked to validate your Resort Guest status, usually by scanning a MagicBand or using MagicMobile on a smart device.
For a full list of participating hotels, check out our earlier article: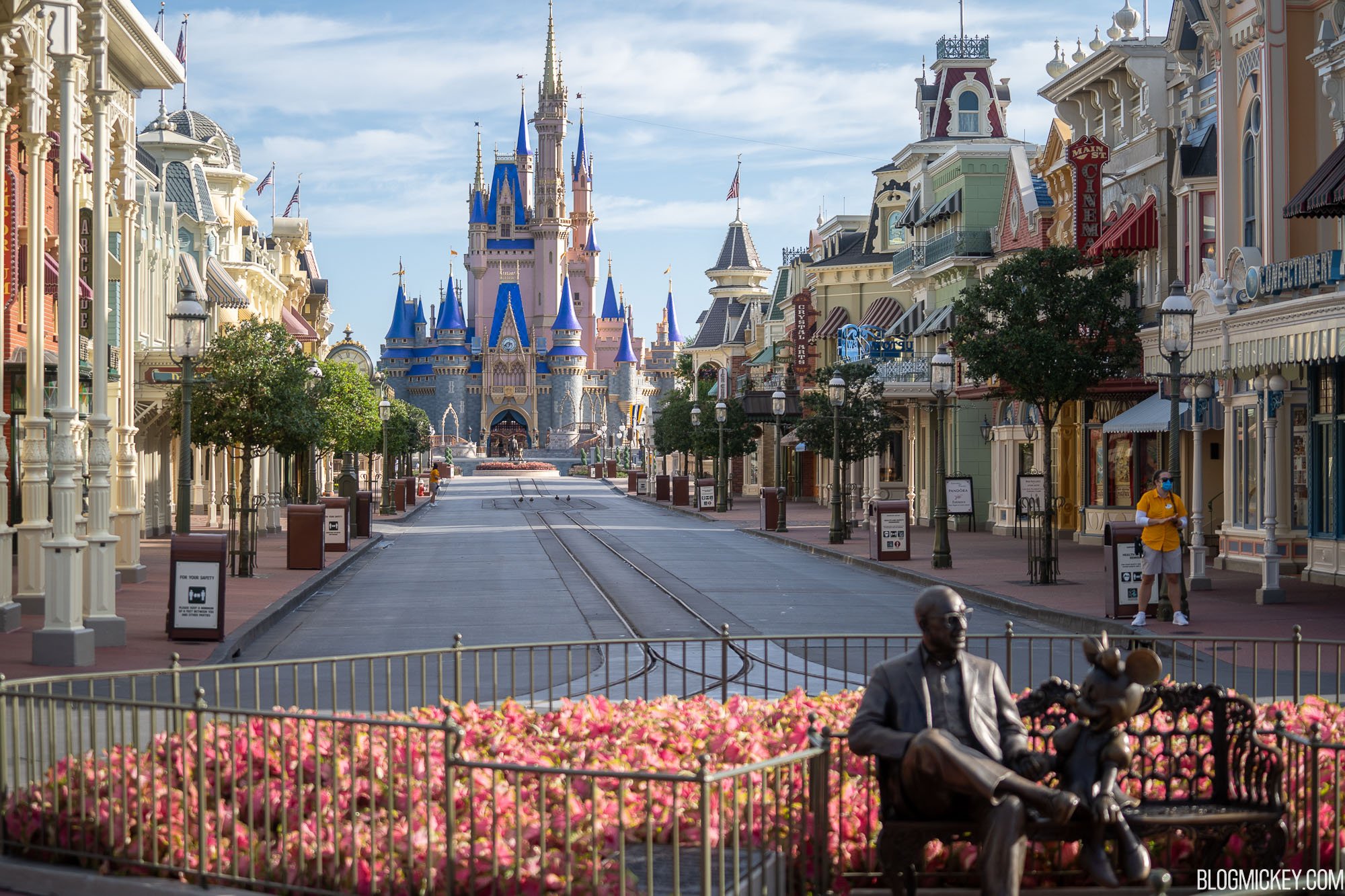 Magic Kingdom Early Entry Attractions
"it's a small world"
Astro Orbiter
Buzz Lightyear's Space Ranger Spin
Dumbo the Flying Elephant
Mad Tea Party
Mickey's PhilharMagic
Peter Pan's Flight
Prince Charming Regal Carrousel
Seven Dwarfs Mine Train
Space Mountain
The Barnstormer
The Many Adventures of Winnie the Pooh
Tomorrowland Speedway
Tomorrowland Transit Authority PeopleMover
Under the Sea ~ Journey of The Little Mermaid
Walt Disney's Carousel of Progress
Magic Kingdom Early Entry Arrival Time
Magic Kingdom, more than any other Disney World theme park, is a pain to get to. Maybe not so much if you're staying at one of the area resorts, but if you're arriving via the parking lot or rideshare, you have quite the journey ahead of you once you think you've arrived.
Just like other Early Entry articles that we've written, we arrived at the parking plaza just a hair more than 60 minutes before the official start of Early Entry. To be more exact, we parked at 7:28am and started to make our way towards our transportation options – Monorail or Ferry.
We choose the monorail simply because there was essentially no line to speak of. The ferry becomes a better option when the monorail line starts to back up into the plaza, but with a quicker commute and more frequent dispatch times, the monorail is mostly the right call.
Magic Kingdom Early Entry Start Time
As we arrived on the monorail, we got a look at the rather modest lines of guests waiting to get into Magic Kingdom.
Like other parks, Magic Kingdom opened early – before the official start of Early Entry. When we visited, Magic Kingdom officially opened to guests at 7:48am, but that doesn't mean that you can run straight to Seven Dwarfs Mine Train or your attraction of choice.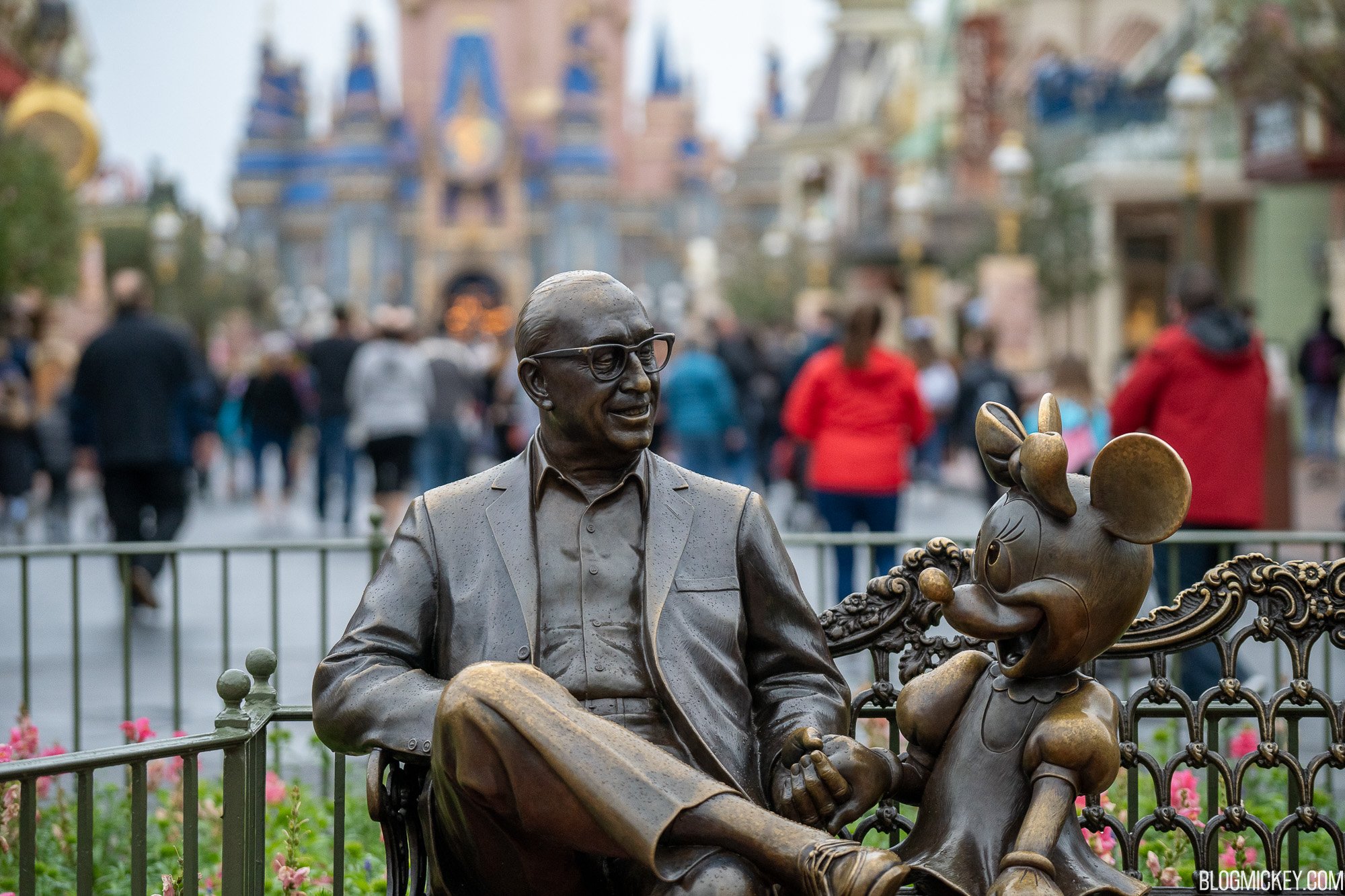 As you may have already noticed based on the attraction list, Frontierland and the "left" side of Magic Kingdom isn't open. That means that you're heading to one of two bridges – Fantasyland or Tomorrowland. In our case, we're headed to the Fantasyland bridge (closest to Cinderella Castle, on the right). Even though our priority is Peter Pan's Flight, we'll be in the same crowd as those guests who are heading for Seven Dwarfs Mine Train.
A quick note: all guests will check-in to Early Entry near the Tomorrowland bridge. Main Street USA is open to all guests starting shortly before 8am, but only Early Entry guests can access the Tomorrowland and Fantasyland bridges.
Here's a look at the small crowd heading to Tomorrowland first.
A "larger" crowd is heading towards Fantasyland. Of course, it's all relative and crowds are fairly light in the first 10-15 minutes after the park begins to welcome guests inside.
All guests are held at either Cosmic Ray's Starlight Cafe/Cheshire Cafe or the Tomorrowland bridge, depending on which bridge you choose. We arrived to our holding point at 7:58am, which was 10 minutes after the tappoints opened. You can probably make the same walk in 5-8 minutes and be a couple dozen guests closer to the front of the Fantasyland Early Entry rope drop.
The crowds continued to build behind us as we approached 8:30am. Here's a look behind us at 8:27am.
In our experience, Magic Kingdom was the most exact with their start time. Hollywood Studios opens at 7:30am and some attractions start running when they feel like it. Animal Kingdom essentially said close enough and started walking us back to Flight of Passage 13 minutes early, and EPCOT seemingly had a quick watch and opened about 3 minutes early. That said, Magic Kingdom opened for Early Entry guests right at 8:30am.
So, why do we mention this? It's important in the case of Hollywood Studios to know that Early Entry often starts earlier than advertised, putting a premium on arriving early. On the other hand, Magic Kingdom will make you wait, and wait, and wait, until the official start time. So, if you're showing up for Early Entry at Magic Kingdom, be prepared to wait a bit – it'll be worth it.
Riding Peter Pan's Flight During Early Entry at Magic Kingdom
Ok, it's 8:30am and the crowd begins to walk back towards Seven Dwarfs Mine Train via a walkway to the left of the Mad Tea Party attraction. Basically, the queue for Seven Dwarfs Mine Train will start to form a bit from the mass of people and you'll want to stay to the left if you're heading to other Fantasyland attractions.
The Seven Dwarfs Mine Train queue will quickly build back towards Storybook Circus.
Things will start to open up a bit as the masses head for Seven Dwarfs Mine Train. Unless you're one of the first guests along the rope, it might be best to head for greener pastures. In our case, that means Peter Pan's Flight.
A quick note for guests with strollers. You'll want to drop your stroller here, at Prince Charming's Regal Carousel on the way to Peter Pan's Flight to minimize headaches and make it easier on Cast Members at the attraction. There's plenty of parking here and it's on the way to Peter Pan's Flight.
Ok, we made it to the entrance of Peter Pan's Flight by 8:34am after a leisurely walk during Early Entry rope drop. You can probably make the same walk in half the time.
We were seated in our pirate ship by 8:40am.
Peter Pan's Flight is a rather short attraction, so we were back in front of the ride roughly 3 minutes later. By 8:44am, the line for the ride had grown to the extended queue and the likelihood of riding multiple attractions during Early Entry would all but disappear. Thankfully, we were done with Peter Pan's Flight and not just arriving.
That said, if you find yourself a little behind in your morning and can't use the full 30 minutes of Early Entry, even getting a leg up on a single ride can be useful and shouldn't feel like a failure.
Ok, time to hike from the heart of Fantasyland over to Space Mountain in Tomorrowland. Let's take a look at the Seven Dwarfs Mine Train line as we pass by. It now stretches towards Storybook Circus with a 50-minute wait posted on the lollipop sign and at the ride entrance.
We arrived at Space Mountain by 8:50am and it was clear that this would be our final Early Entry attraction. Two attractions in 30 minutes is not too shabby, but we worried about what kind of line we'd find when we eventually made it to Jungle Cruise.
It took us 7 minutes to walk to the load area, where we found a crowd.
We were lucky to be right at the cut off when the Cast Member decided to send us down another line, saving us probably an additional 10 minutes of waiting. We'd try to balance that with more photos of the exit queue and stopping to listen to the Dapper Dans before heading to Jungle Cruise.
At this point, we are done with the Early Entry period, but we wanted to see if we could still make it to Jungle Cruise with a short wait after official park open. An extended queue was set up and while the posted wait was 30 minutes, it would climb to 70 minutes while we were in the queue.
Our actual wait was 40 minutes. Not bad, but probably not ideal. We probably could've taken advantage of some lower waits elsewhere instead. Here are some Jungle Cruise photos before our closing thoughts.
Closing Thoughts
When we consider what was accomplished, we felt good about our Early Entry time at Magic Kingdom. We were able to ride Peter Pan's Flight with a minimal wait. In January 2022, Peter Pan's Flight has averaged an 80-minute wait.
A quick (unlikely) aside. While there are a lot of factors that go into what makes a "good" ride, but in terms of value during a time-limited event like Early Entry, we like to balance what we "give" versus what we get. In some cases, that might mean wait versus experience. For example, Splash Mountain usually demands an hour wait, but what you receive is a lengthy attraction with wonderful sets and a good thrill factor. An hour wait for Peter Pan's Flight is almost a ripoff in comparison. So, being able to use the Early Entry period to take an 80-minute wait down to just a few minutes is a huge win and tips the scales on the "value" factor.
Ok, back to our thoughts. We were able to knock out Space Mountain with minimal wait. In this case, we can not only put an abstract value on our wait as described above but also a monetary value on being able to avoid paying for an Individual Lightning Lane for Space Mountain.
Getting two attractions done during Early Entry is a win and Magic Kingdom will generally be at your disposal with low waits going forward. We probably wouldn't do Jungle Cruise again with this plan and instead, try for Haunted Mansion or Pirates of the Caribbean with extremely low waits in the first hour of official park operation. There's also something to be said about possibly knocking out more attractions in Tomorrowland and skipping Fantasyland altogether to time a Jungle Cruise arrival better. Perhaps we'll give that a try in the coming weeks.
As always, keep checking back with us here at BlogMickey.com as we continue to bring you the latest news, photos, and info from around the Disney Parks!