While riding the Tomorrowland PeopleMover last night to get photos of the return of railroad track to the TRON Lightcycle Run construction site, we were also treated to wonderful views of the basic nighttime lighting package for the canopy that both serves as a visual indication of the attraction and protection from the elements. During the day, the canopy serves as a roof that will allow the roller coaster to operate during the typical afternoon thunderstorms, but at night it will come alive as the highlight of Tomorrowland.
While the canopy is capable of running through an array of different colors, this appeared to be a basic color scheme. A more dynamic canopy lighting package will debut when the ride opens. We will likely see more advanced nighttime lighting testing as we get closer to the opening of the ride. Here's an example of what the canopy looks like in Shanghai Disneyland.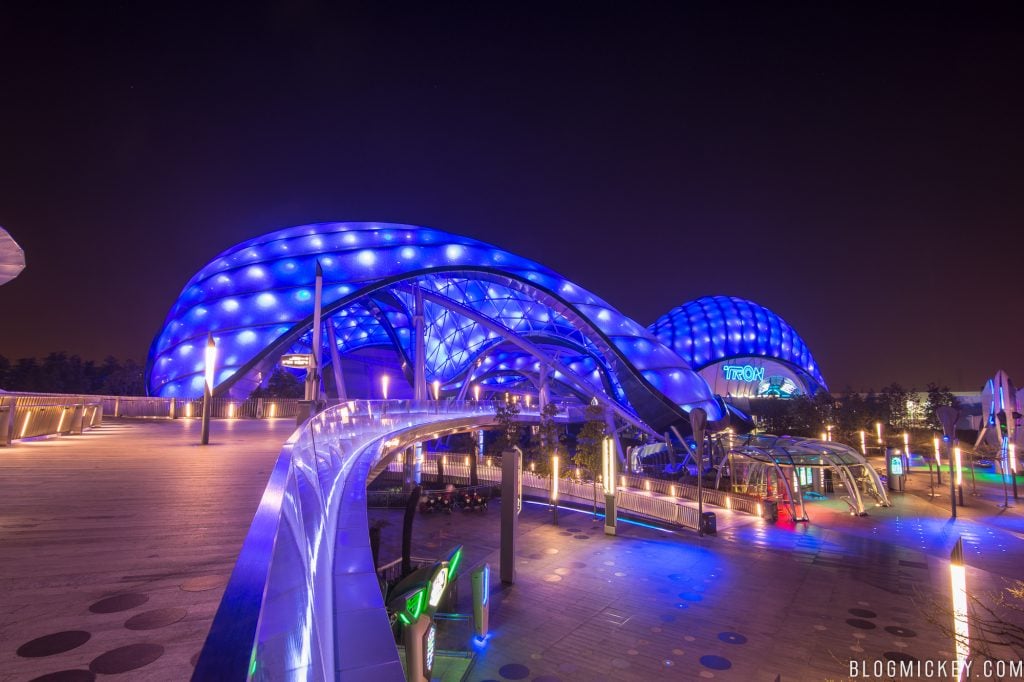 Here's a look at the approach from the Tomorrowland PeopleMover.
It's much easier to differentiate between what is roller coaster track and what is canopy at night.
Looking towards the entrance under construction, we can see two levels at play. The top level is the entrance walkway to the ride and the bottom level is the nearly 60mph launch sequence for the roller coaster. The two levels are stacked, so you won't be able to see the launch from the entrance.
That said, you will be able to see the coaster very clearly as it starts to climb out of the launch (right, below) and make a sweeping u-turn back into the building for the "meat" of the ride.
Disney has not announced an opening date for TRON Lightcycle Run, but we recently wrote about the ongoing testing. Sources indicate that Disney hopes to have it open later this year.
As always, keep checking back with us here at BlogMickey.com as we continue to bring you the latest news, photos, and info from around the Disney Parks!