Three former Walt Disney World Cast Members have joined in suing Disney over what they claim are unlawful terminations surrounding their "religious beliefs" in not participating in Disney's COVID-19 protocols for Cast Members. The lawsuit asks for a jury trial and cites a Florida statute related to whistleblowers, but ultimately comes down to each plaintiff's claim that Disney's vaccine mandate, and then subsequent masking mandates, violated their religious beliefs.
Barbara Andreas, Stephen J. Cribb, and Adam Pajer are all former Cast Members that had their employment terminated by Disney in what they claim is an unlawful manner. The 24-page complaint is aided by a 37-page exhibit document that attempts to paint a picture of retaliation against the employees for not following health & safety protocols designed by Disney to protect the health of its employees and guests.
Each of the employees submitted a COVID-19 Vaccination Accommodation Request form from the vaccine mandate that Disney announced on July 30, 2021.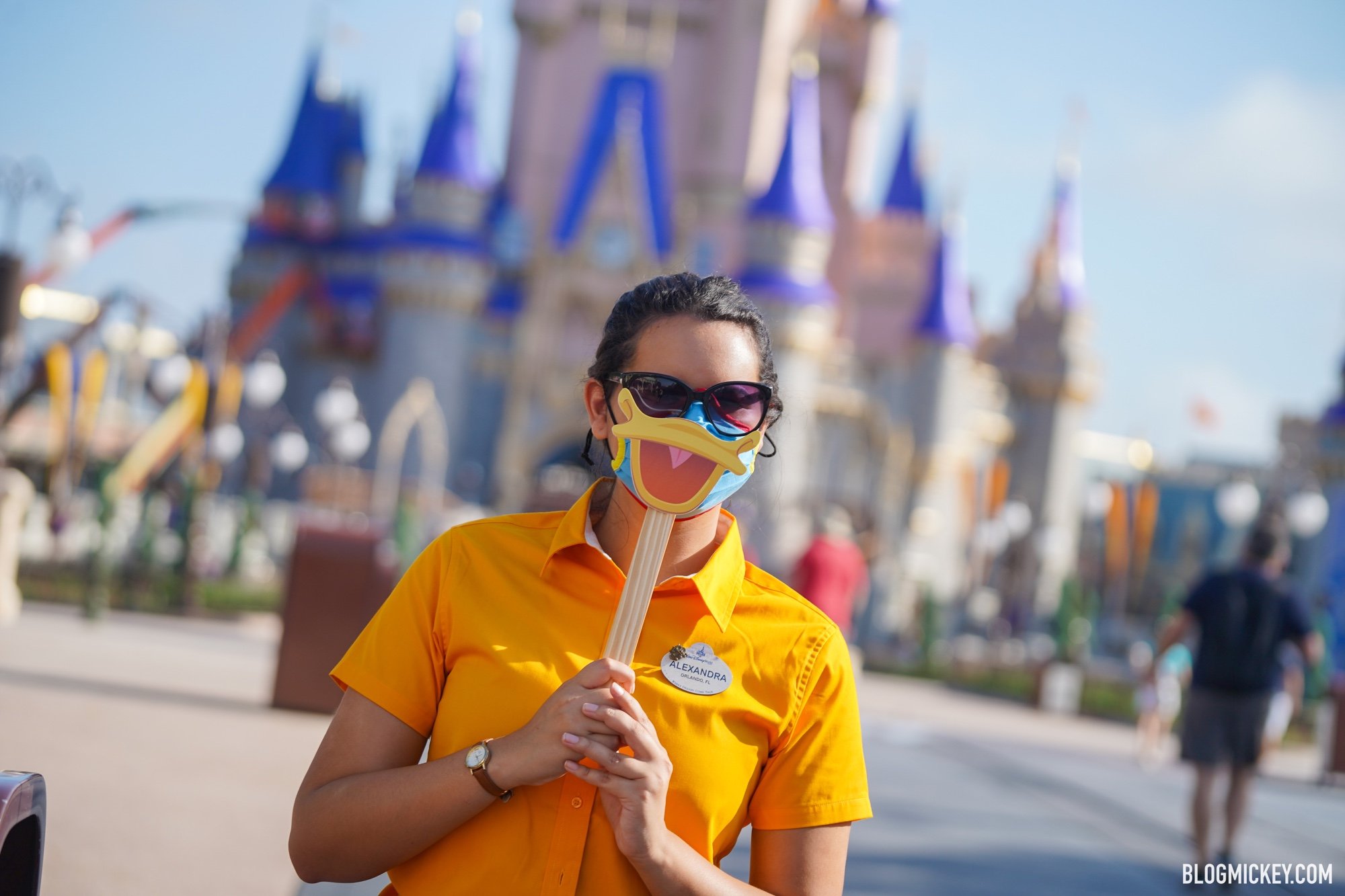 By November 2021, Disney was forced to end its policy of requiring its Cast Members to be vaccinated against COVID-19 due to a law put in place by Florida Governor Ron DeSantis. At that time, Disney announced that 90% of its Cast Members were vaccinated against COVID-19. Cast Members who were not vaccinated would need to follow a health & safety protocol that included wearing a mask.
In her August 2021 exemption request, Ms. Andreas stated that her Christian religious beliefs prevented her from taking a vaccine that she claimed contained "aborted fetal cells". Furthermore, Ms. Andreas requested that she be exempt from COVID-19 testing and face covering requirements. Ms. Andreas claimed that the sterilization process for cotton swabs goes against her religious beliefs, and that when wearing a face covering she does not want to be mistaken for practicing a different religion by covering her face. In an affirmation letter from Rev. Dr. John A. Vacchiano, Jr., a claim is made that wearing a mask is engaging in Muslim religious practice of submission to Allah. In a later communication, Ms. Andreas claimed that wearing a face covering was a "sin".
Due to Disney dropping the vaccine requirement in November 2021, a December 2021 decision said that Ms. Andreas' request for exemption from the face mask policy for unvaccinated Cast Members was denied. Disney said, in part, that they did not find that Ms. Andreas was prevented from wearing a face cover due to a sincerely held religious belief, practice or observance, and that her request was denied.
After receiving the denial, Ms. Andreas retained council and a claim of discrimination was made to Disney. In a February 2022 letter, Ms. Andreas' council said that she was discriminated against and, among other claims, council said that "data now shows that the COVID-19 pandemic is largely an artificial 'emergency' that has been imposed and perpetuated by widespread coordinated psychological manipulation of the public through incessant, prolonged, fear-based reporting of inflated death and case counts, culminating in a campaign to coerce the American people to accept the so-called COVID-19 'vaccines,' which are untested and unproven biological agents." Council then said that Ms. Andreas would not be complying with the COVID-19 policies outlined by The Walt Disney Company.
By early March 2022, Ms. Andreas was escorted to her car and terminated for not complying with Disney's face covering policy for unvaccinated Cast Members.
In a similar story, Mr. Cribb also submitted a request for exemption from the COVID-19 vaccine mandate based on deeply held religious beliefs in August 2021. The lawsuit does not say whether or not Mr. Cribb was denied an exemption, but it's likely that the point was moot due to the action by DeSantis and slow response to the request. The lawsuit goes on to claim that nobody at Disney informed Mr. Cribb that he was required to follow the health and safety protocols established for unvaccinated Cast Members until a February 2022 text from a supervisor informing Mr. Cribb that he was required to wear a mask.
The lawsuit claims that Mr. Cribb was "likely the only person wearing a mask as he led the [Mardi Gras] parade through [Disney's Port Orleans] resort", but photos from BlogMickey.com from that day show at least two other Cast Members wearing masks in the parade. Still, the lawsuit claims that Mr. Cribb was "overwhelmed by the humiliation of Disney's overt discrimination" as he led the parade in a bicycle with a face covering on. From March 6 forward, Mr. Cribb defied Disney's health and safety protocol for unvaccinated Cast Members and called a mask mandate an unlawful de facto COVID-19 vaccination mandate. On March 16, 2022, Mr. Cribb was suspended. Ultimately, he was terminated in April 2022.
Mr. Pajer, the third plaintiff in this case, also submitted a request for religious exemption from the COVID-19 mandate, claiming on the request form that "if it were not for Media, Big Tech censorship, and corporate companies like you. We not know Covid19 even exist [sic]". Mr. Pajer went on to call the COVID-19 vaccine(s) an "experimental potion". His request for religious exemption, while not entirely easily followed, appears to center around what he believes is a deadly vaccine that amounts to self-harm, which is against his religious beliefs. Furthermore, Mr. Pajer seems to have a distrust of officials, calling the COVID-19 pandemic a "plandemic" throughout his request. His request was never decided.
Like Mr. Cribb, Mr. Pajer did not mention the use of a face mask in his religious exemption form. It's worth noting that the form was limited to an exemption from the COVID-19 vaccine mandate at the time, and that only Ms. Andreas expanded her request to include masking. Getting back to Mr. Pajer's case, he ended up texting other part-time Cast Members in a group chat claiming that Disney was starting to discriminate against employees that "didn't take the experimental propaganda procedures" as he informed others that he would not be complying with Disney's health & safety protocols for unvaccinated Cast Members.
By May 2022, Mr. Pajer had printed written statements like the one seen below and would hand them out to managers who would enforce Disney's health & safety protocols for unvaccinated Cast Members. Mr. Pajer also informed Disney that he had filed a complaint against the company with the Florida State Attorney General.
In a May 2022 incident, Mr. Pajer was called to an office where the lawsuit alleges that he was harassed and belittled by managers, with one reportedly attempting to burn one of the written statements with a lighter as Mr. Pajer held it in his hand.
The lawsuit claims that managers asked Mr. Pajer to leave the premises as retaliation against him for his "efforts to assert his rights and inform Disney management of its unlawful conduct against him". Two days later Mr. Pajer was suspended.
Mr. Pajer asked Disney to only communicate directly with his lawyers, but Disney said "The Company does not include non-employees in our workplace investigations." Disney requested that Mr. Pajer communicate directly with them about his claims of discrimination. The lawsuit says that "Disney terminated Mr. Pajer's employment without further investigation" on June 28th.
Ultimately, the lawsuit asks that Disney be found guilty of retaliation via a whistleblower statute. The suit claims that Disney's face mask policy for unvaccinated Cast Members is unlawful and a de facto violation of COVID-19 vaccination prohibition. The lawsuit seeks reinstatement of employment for all three former Cast Members along with Disney to pay for lost wages, any lost benefits, pay attorneys fees and costs, and any other fees that the court deems.
As always, keep checking back with us here at BlogMickey.com as we continue to bring you the latest news, photos, and info from around the Disney Parks!