Earlier today, we swung by Disney's Hollywood Studios to check in on the Roundup Rodeo BBQ construction. As we reported a week ago, work has begun on the exterior of the restaurant. This facade work is likely the last bit of construction remaining before the restaurant can open. Disney World has previously said that Roundup Rodeo BBQ will open sometime in 2022. We've previously covered permits for scenic work on the interior of the restaurant as well.
Before we take a look at the latest construction, here's a look at the concept art for the entrance to Roundup Rodeo BBQ.
The restaurant entrance will be located just beyond the tall Woody figure that stands at the entrance to the land. You can see the green construction fence just beyond Woody in the photo below.
Here's a closer look at the entrance area.
If we walk a bit further into Toy Story Land, here's a look at the building from the main walkway through the land.
Adjusting our view, we can see the top of the entrance just beyond the construction walls.
A peek past the construction walls shows that there is a new walkway and framing continues on the entrance to the Roundup Rodeo BBQ.
Roundup Rodeo BBQ Story
Discover what it feels like to be one of Andy's honorary toys. At Roundup Rodeo BBQ, you will be surrounded by Andy's rodeo at play––everything from western towns and train station playsets. Plus, take a gander at images of popular characters, including a larger-than-life display of Jessie riding on the back of a Trixie pull toy! You can also view a scene of Bo Peep and her sheep posed to perform in the rodeo.
Using three cardboard boxes cut and taped together, Andy has created a new rodeo arena using some of his favorite toys, games, and play sets. And while some pieces are definitely western-themed, what makes this rodeo special is the broad assortment of toys that have been brought together to create a fun, colorful mashup atmosphere that only a child could create.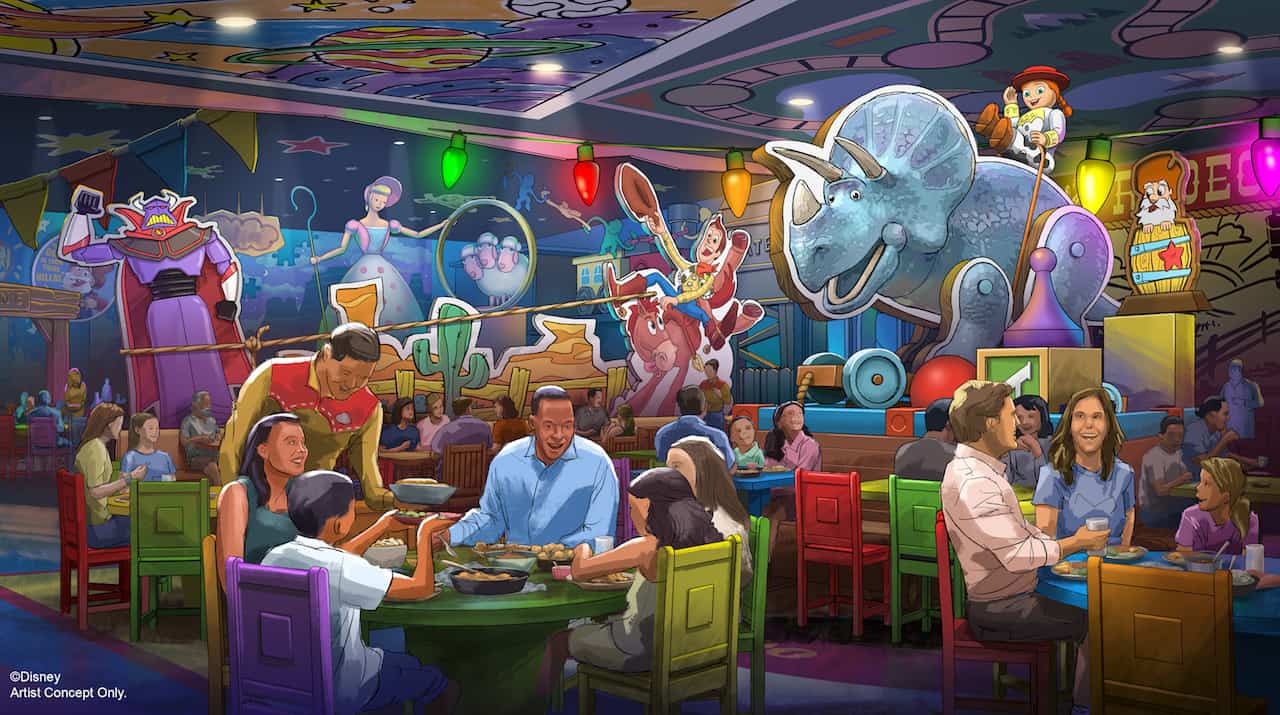 Once inside, you'll be surrounded by all of the rodeo festivities in action as well as western town and train station play sets. And you just might spot some of your favorite Pixar characters scattered throughout the restaurant in the form of toys and game pieces including a toy version of Jessie riding on the back of a Trixie pull-toy and unique toy versions of Bo Peep and her sheep, all who appear to be performing in the rodeo together.
As always, keep checking back with us here at BlogMickey.com as we continue to bring you the latest news, photos, and info from around the Disney Parks!