Welcome to Ronto Roasters! Ronto Roasters serves breakfast, lunch, and dinner as well as an assortment of drinks. We've compiled the full menu and photos for your Star Wars: Galaxy's Edge planning. We'll also include a full review once we've had the chance to try these items ourselves!
NOTE: As of publish time, we don't have prices, but we will update this post when they become available.
---
As you wander the market, follow the intoxicating scent of grilled meat wafting through the air. Ronto Roasters is a favorite stop for crews prepping for their next mission. Inside, spot the hanging podracer engine heating up a spit of meats. A pitmaster droid turns the mechanical spit, grilling a large side of ronto—a massive beast native to the planet Tatooine. Enjoy your tasty treat with a specialty beverage while you explore the rest of the market.
Breakfast Exclusives
Ronto Morning Wrap – $12.49
Scrambled Eggs, Grilled Pork Sausage, Shredded Cheddar, Peppercorn Sauce, wrapped in Pita
Rising Moons Overnight Oats – $6.99
Oats, Dragon Fruit, Yogurt, Seasonal Fruit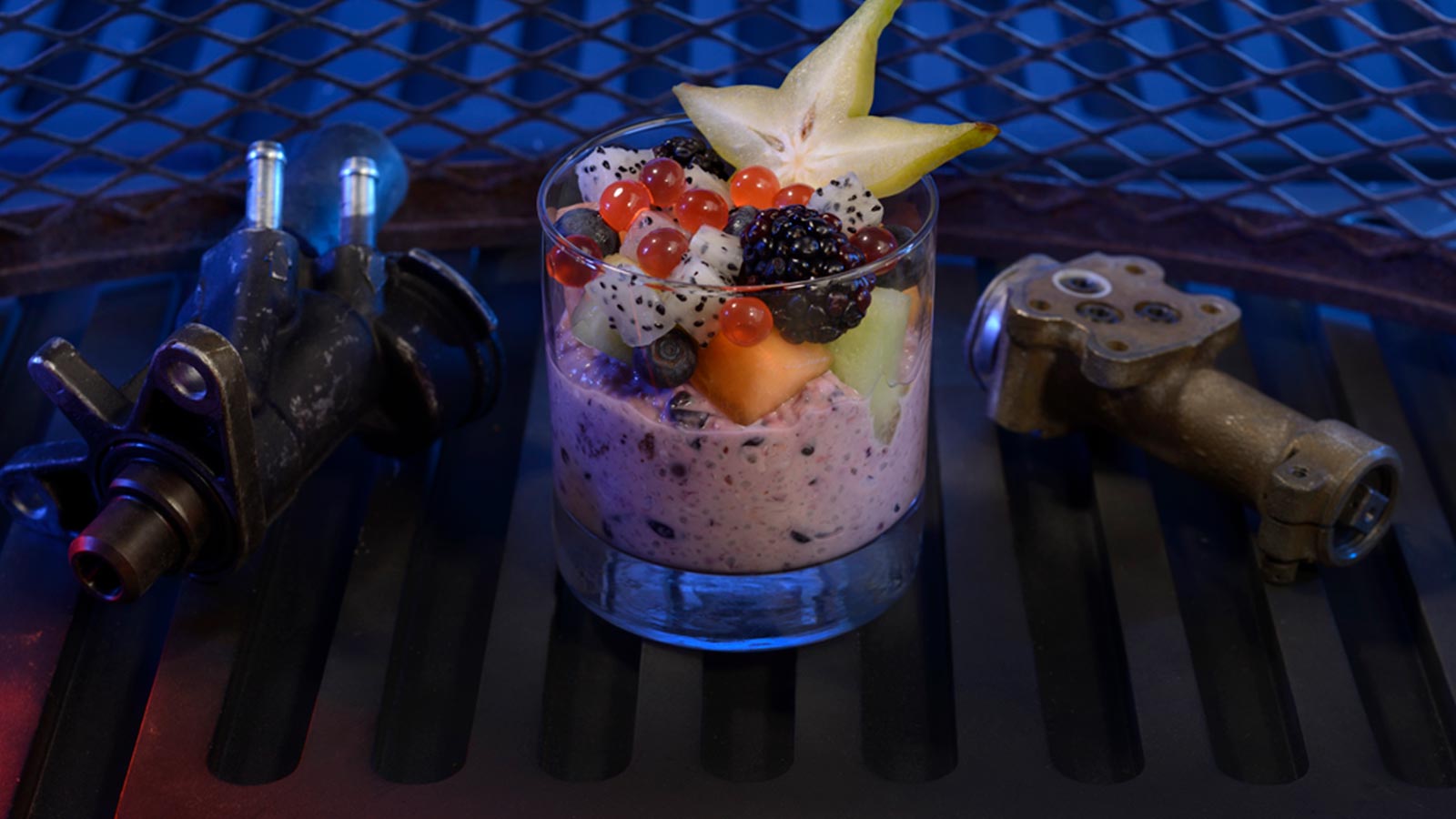 All Day Menu Options
Ronto Wrap – $12.99
Roasted Pork, Grilled Pork Sausage, Peppercorn Sauce, tangy Slaw, wrapped in Pita
Nuna Turkey Jerky – $7.49
sweet Teriyaki or spicy Herb
Specialty Beverages
Tatooine Sunset – $5.49
Gold Peak® Unsweetened Tea, Odwalla® Lemonade with Melon and Blueberry
Meiloorun Juice – $5.49
Barrilitos® Aguas Frescas Pineapple, Simply Lemonade® with Blueberry, White Cranberry Juice, Lemon Juice, and Desert Pear
Sour Sarlacc – $5.49
Minute Maid® Limeade with Raspberry and spicy Mango