A short time ago, in a hotel not too far away…
We recently made our first voyage on the brand new Star Wars: Galactic Starcruiser immersive "cruise". The Star Wars-themed immersive hotel is billed as a two-night Star Wars adventure that allows you to live out your own story. In this article, we're going to discuss our experiences on the first day of our voyage, which will include information about the arrival process, a tour of our standard cabin, the dinner show featuring Gaya, and much more. As a disclaimer, BlogMickey.com paid 100% out of pocket for our $5,232 Galactic Starcruiser experience plus all associated additional costs such as alcoholic beverages. We were not hosted or compensated by Disney for either this cruise or any previews, which means that the opinions shared in this article are completely independent. Let's jump in!
Galactic Starcruiser Terminal Arrival Experience
For as immersive as the Star Wars: Galactic Starcruiser experience is, the arrival is the worst of any Disney World hotel. There is one road into the hotel, from an Osceola Parkway ramp, and the views of the back of Star Wars: Galaxy's Edge and the Starcruiser hotel itself are not hidden in the slightest. The roadway used to enter the hotel doubles as an active Cast Member parking access road for Disney's Hollywood Studios Cast and it feels like it.
For as hard as the Imagineers worked to create an all-encompassing, immersive environment onboard the Starcruiser, the harsh reality is that you're staying in a concrete bunker just steps away from a water chilling plant behind Disney's most expensive themed land ever. There's no glamour whatsoever, but hopefully it's just a quick drive to the security check-in kiosk.
Here's a look at the views from the drive in, and yes, there are shipping containers as directional signs.
For guests arriving at or around 11am, you'll be either held at the security checkpoint seen below or asked to u-turn (if you arrive before 11am). Because the experience relies on valet service for guests arriving by car, there is potential for cars to be backed up as security waits for clearance to send more cars. Disney doesn't want you just dropping off your car and tossing the keys. Instead, they will want to ensure that the existing cars are cleared and Cast Members are ready to greet you and take your luggage. It can be a frustrating experience to wait outside the gates when you've paid a premium for every minute of the experience. Hopefully, Disney is able to learn from the poor guest experiences in early cruises and implement some changes soon.
The idea here is that you'll begin your adventure in the Galactic Starcruiser Terminal, which certainly has a bunker-type feel thanks to an overwhelming amount of concrete. You'll take a launch pod from the terminal up to the Halcyon ship.
Valet is included and required for guests arriving by car. You'll be greeted by a Cast Member who will welcome you to the Galactic Starcruiser Terminal before handing you a bag with your MagicBands (M-Band), a Halcyon token, and (for now) Disney-provided iPhones with the Play Disney Parks app installed. From our understanding, some functionality would not work with the current version of the Play Disney Parks app available on various app stores, so Disney preloads what you need onto an iPhone (Datapad) that you will use for the duration of your cruise.
Cast Members will take whatever luggage you'd like and make sure that it is waiting for you in your cabin either by the time you get there or shortly thereafter. The service during the arrival experience is exceptional from a valet and bell services standpoint, but there are other portions of the operation that are just not up to par.
Check-in begins at 11am, but you won't be able to enter the building until 1pm. If you show up early, Cast Members will encourage you to visit Disney Springs, and buses run between the Galactic Starcruiser and Disney Springs periodically. Unless you show up right at 11am (and we don't recommend it), going to Disney Springs is probably a waste of time.
We arrived shortly before our scheduled 1pm arrival time and the process was absolutely terrible. There are a great many things that I believe Disney has more or less "set in stone" about the experience, but we expect that adding arrival windows will be a change that is needed. In the check-in process on the app, guests select what time they plan on arriving, but it doesn't seem like this time is limited to a certain amount of guests per arrival time. That meant that dozens of guests were already in line when we arrived and we found ourselves in a queue that stretched down the roadway. For the amount of money paid, this is unacceptable.
In total, it took us one hour from the time that we pulled into the porte-cochère until we got onto the launch pod to actually enter the hotel. If we do the Galactic Starcruiser again, we might plan on showing up around 45-60 minutes early to ensure that we aren't waiting in the sun and that we aren't cutting into our cruise time by waiting to even get into the building.
Once you reach the front doors to the terminal, guests will scan their M-Bands at a touchpoint that will be tied to their account. This process is the same that guests are used to with MagicBands at the entrance to the Disney theme parks. All guests (and their checked luggage) will go through security scanners when entering the terminal.
The hold-up was the pre-cruise safety video that distinguished between an in-story emergency and an actual emergency. From there, there is a single launch pod that takes guests up to the Halcyon lobby. A long hallway leads to the pre-show video area and only about 6-10 guests fit in the launch pod to the Halcyon at a time. There is a built-in show element to the launch pod that we'll take a look at in a bit, but it certainly slows down the process.
Here's a look at the same terminal hallway with no guests.
Once you reach the end of the hallway, you'll watch a short safety video before boarding the launch pod to the Halcyon Starcruiser.
Launch Pod to Galactic Starcruiser
The Launch Pod is perhaps one of the places where the concept art differed wildly from the delivered product. Here's a look at the initial concept art released by Disney.
And here's a look at the launch pod that guests actually board. Massive overhead window displays are replaced with two slits to watch a very limited journey to the Halcyon ship.
Galactic Starcruiser Atrium Arrival
The launch pod connects to the atrium, so the first impression that guests get of their home away from home is a two-story cavernous space that is small but spacious at the same time. This is probably a concept that we'll return to later, but Imagineering has found a way to create spaces that feel intimate but not cramped and spacious but not big throughout entire the Starcruiser. Upon reflection, it's tough to describe and frustratingly confusing to grasp, but it works.
In the photo immediately below, you can see the launch pod dock to the right side of the image.
We'll explore some of the spaces as we continue with our day, but know that the atrium level contains the Sublight Lounge, the Bridge, and The Chandrilla Collection gift shop.
If you're feeling a bit parched from your terminal arrival experience or at any point throughout the cruise, water is available at a dispenser in the atrium on the wall opposite of the launch pod dock. Here you can find chilled flat water, chilled sparkling water, and ambient (room temperature) flat water – all on tap and available 24/7.
In this reverse photo from the one pictured above, you can see the water station on the far wall as we look out from the launch pod dock.
Here's a closer look at the water station.
Passenger Services
We'll take a moment to mention Passenger Services, these are your "front desk" staff and they are knowledgeable and helpful with just about any logistical issues that may arise. For example, we spoke with a Passenger Services rep who was able to help us adjust some of our activity times. When you first arrive, a Passenger Services crewmember will welcome you can take you to your cabin. They will offer a quick overview of the cabin and some features as well as hand you off to D3-O9, the in-room droid companion that will be able to offer even more assistance (and entertainment).
If you have a concern, issue, or comment, Passenger Services in the atrium is the place to go.
Standard Cabin Room Tour
We decided to head to our room first to settle in before exploring the ship. Here's a look around the cabin, which again, is bigger than it looks but still small enough to remind you that you are on a space-limited cruise ship. The only real letdown here was the viewport. It is impressive that the viewport displays scenes that sync up with what is going on with the rest of the ship, but the window element is simply too distorted and difficult to enjoy. Not only were photos and video difficult to impossible, but the in-person experience also wasn't very clear. For the best possible view, we turned off all of the other cabin lights to prevent glaring.
Here's a look at how the experience outside of your window plays along with the experience happening on the ship. We took this photo on the morning of day three and saw the launch pod going back and forth past the window as guests were leaving the ship.
Here's an overview of the rest of the room. We'll have a full room tour with video in a subsequent post, but this should give you a good idea of what to expect.
Perhaps the biggest surprise was just how big the alcove bunk beds were. According to the crew, the beds measure 6′ 4″ in length, and I never felt cramped in the space, and I'm 6′ 2″.
Lunch Buffet
After we got settled in, we decided to head out in search of some food. The lunch buffet is open from the time you get on the ship until 4pm. All meals aboard the Halcyon are served in the Crown of Corellia Dining Room on Deck 4 (two decks below the Atrium). A turbolift and stairs are available to access all decks.
Here's a look at the Crown of Corellia dining room and the buffet area on the forward end of the room.
The lunch buffet is different on both days, but we would rank the day one lunch ahead of the day two lunch. Some standout items were the Fire-Melted Cheese Takeaway, Tikka Tip-Yip Chicken Flatbread, and every single dessert item.
Ship Muster
You'll probably find yourself with a little bit of free time between lunch and the mandatory 4pm Ship Muster event, so it's not a bad time to head to the Sublight Lounge, grab a drink, and start to keep your eyes peeled for some otherworldly characters. You might find yourself chatting it up with Captain Riyola Keevan or attempting to hold a conversation in an alien language with the charming and affable Ouannii. Whatever you choose to do, make certain that you are in the atrium by 4pm for the mandatory Ship Muster.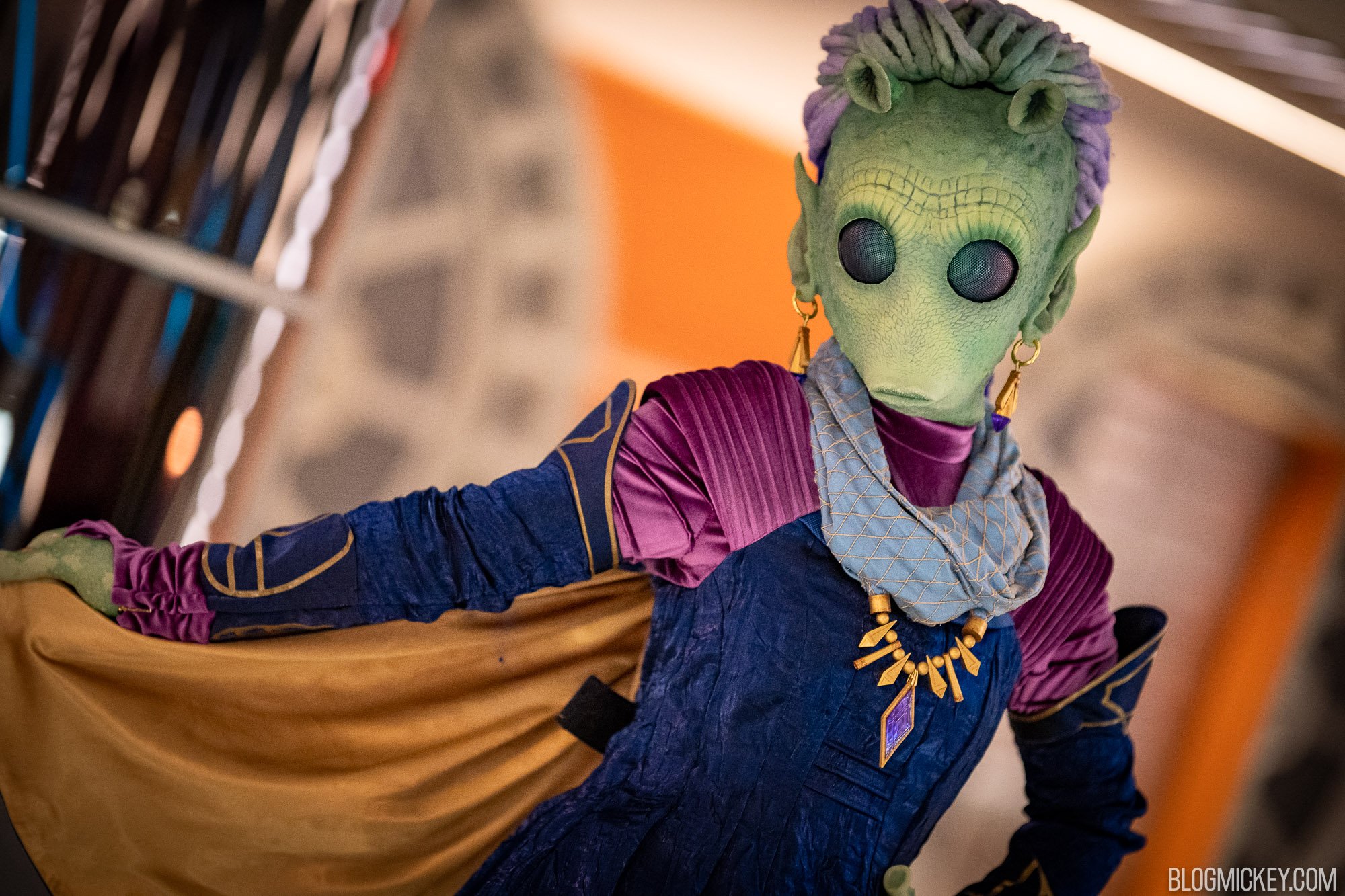 The Ship Muster is where the storyline of the Galactic Starcruiser experience really kicks off. It's probably not too much of a spoiler to say that the First Order comes aboard and it's during the Ship Muster that Lieutenant Croy and some Stormtroopers make their presence known. From 4pm on day one through the climactic finale on day two, the First Order can be seen around the ship.
It's not just the First Order that shows up during Muster either. Other potential allies and adversaries can be found in the atrium following the Ship Muster.
TIP: Our strong advice would be to take some time and talk with some of the characters you find to see how you might want to help over the next 36 hours. As a matter of fact, we found that our story really kicked off between the Ship Muster and our Bridge Ops Training. I would strongly suggest that you explore the ship a little, BE CURIOUS, and speak with different characters. By laying a bit of groundwork in the hour or so following Ship Muster, you will start your path and begin to form an affinity with certain characters. There is a literal spot in the Datapad where you can check in on how familiar certain characters are with you and how much trust they have in you. While most of this seems to be driven by your use of the Datapad, there is worth in talking with and helping characters that you might want to align with over the next 36 hours. We will have another article with tips on how to get the most out of your Star Wars story aboard the Halcyon, but for now, I would say that there is no such thing as starting too early (but do eat some lunch first, it's a long day).
Bridge Ops Training
After the Ship Muster, and some fruitful conversations, we had an activity called Bridge Ops Training. As you'd expect, this takes place on the Bridge, which is adjacent to the Atrium. Your Bridge Ops Training and/or Lightsaber Training might be on the second day of your voyage, but we enjoyed having both activities on day one. It was fast-paced and at times overwhelming, but hitting the ground running on day one meant that we had established the storyline that we wanted to have in place before our Batuu visit on the morning of day two.
Back to Bridge Ops Training. Bridge Ops Training basically consists of small teams moving through four stations in a series of training exercises that familiarize you with the operations of the various panels on the Bridge. What might seem like a series of video games at first is actually going to prove useful later in your story. Even if you don't want to get too deep into the various storylines, it's still fun to shoot lasers into space.
For a more detailed account of Bridge Ops Training, check out our Bridge Ops Training review below. In the review, we'll cover the operations of each station as well as a story moment that takes place.
Lightsaber Training
Our next activity was Lightsaber Training down in the Lightsaber Training Pod. The Lightsaber Training Pod is on Deck 4, two decks below the Atrium and tucked in the same hallway as the Climate Simulator and the transport to Batuu.
The Lightsaber Training gives guests an opportunity to square off against a training remote, similar to what Luke Skywalker did in Star Wars: A New Hope. The experience is driven by a Saja – a force-sensitive non-Jedi that will explain how to use a lightsaber and how to participate in the training exercise. The Saja will explain the force, and throughout the training, guests will get a chance to try and utilize the force in their training.
The room was intimate but large enough to hold 16 guests as you rotate through various positions. The setup is four guests wide and four guests deep. The guest in the front of the line is the one with the lightsaber in hand and facing off against the training remote. The two guests immediately behind end up using a shield to try and block any light beams that make it past the guest with the lightsaber. You will rotate with guests in the same line as you and you will all have multiple opportunities to wield a lightsaber and block with shields.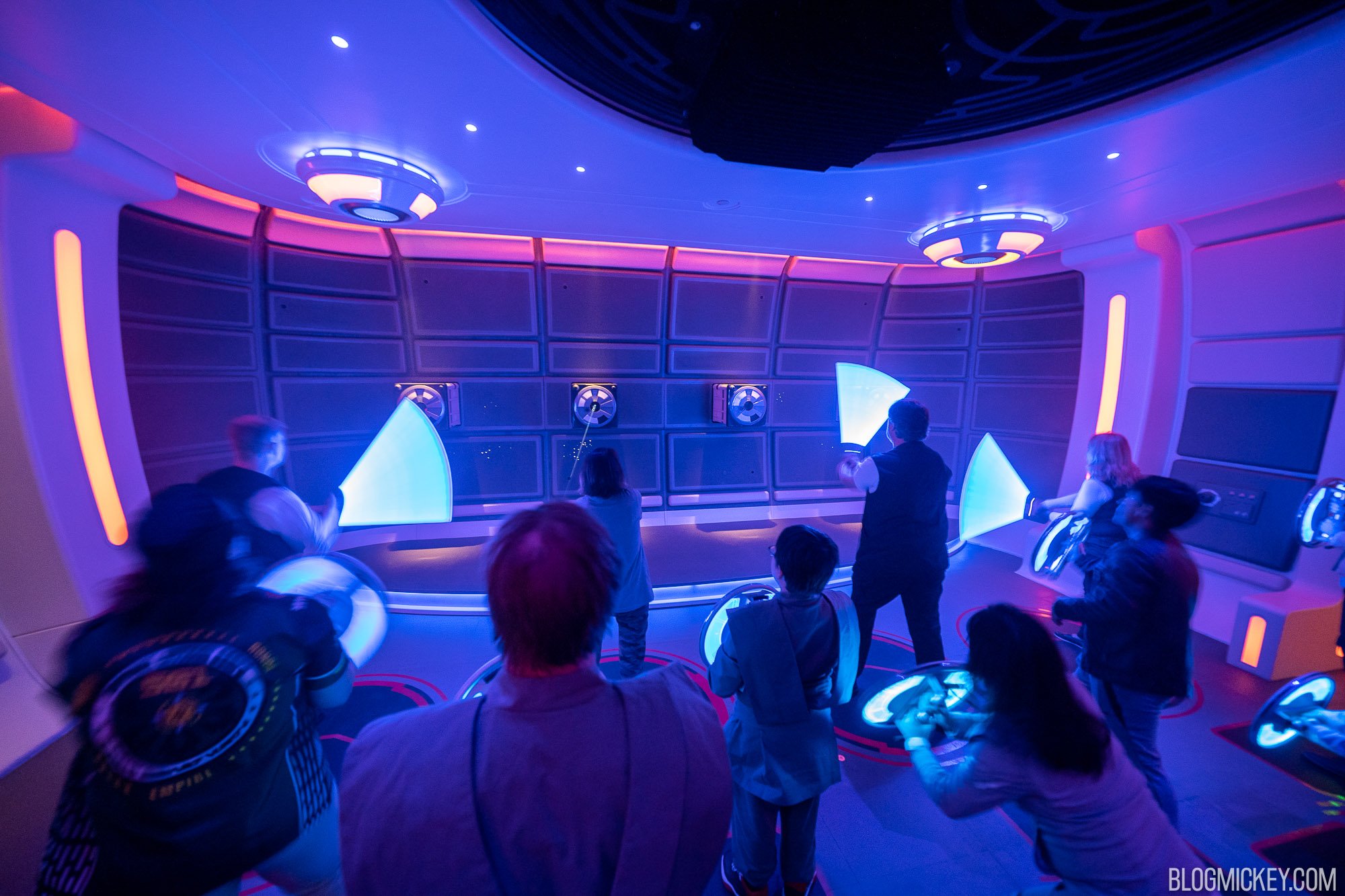 Lightsaber Training is a fun experience, but it can get tiring and a bit repetitive. That said, you won't leave feeling like you didn't get enough time or a fair chance at training. The beams of light work really well and the lightsaber is super responsive to a correct blocking of the light. A slight rumble lets you know that you've successfully blocked it, and the light will disappear.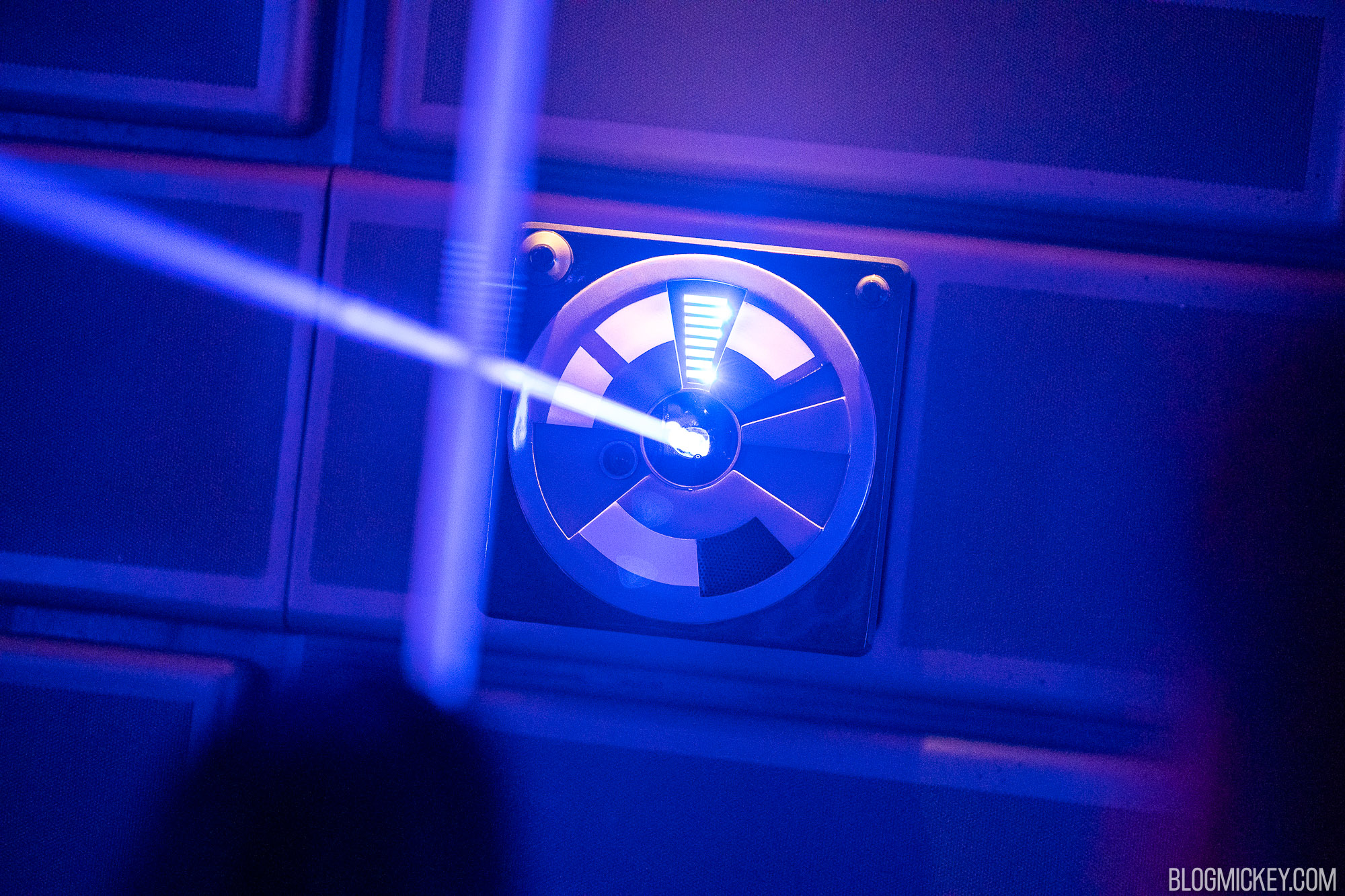 The lightsaber itself is light enough to be swung around quickly to block the light, but it never feels flimsy.
The training remotes are pretty cool pieces of tech that come out of the wall in a moment that lets you know that these are the "adversaries" for training.
There are some show moments that we won't spoil in this particular article, but you can check out our exhaustive Lightsaber Training review in the article below. We also have a video of the experience in that article.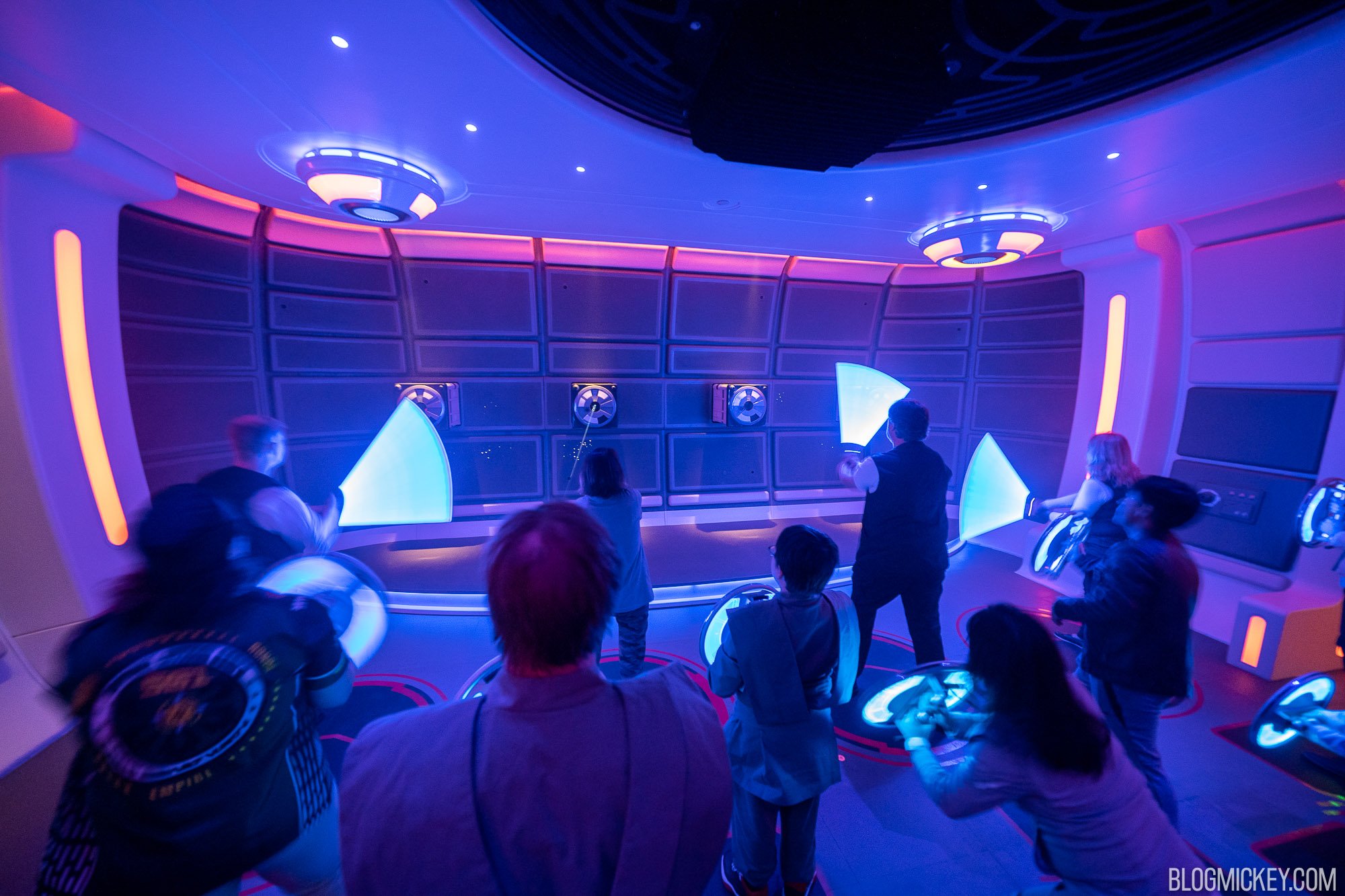 Gaya Dinner Show
After an exhausting lightsaber training session, we were ready to eat and slow down a bit! We will say this – the pace of the cruise is whatever you'd like to make it. At the risk of getting ahead of ourselves, we spent a few hours in the Sublight Lounge on day two while others were running around Batuu. You can have moments of high activity and stimulating experiences, or you can sip a cocktail and play a hand of Sabacc – it's up to you and you'll never be forced into an activity you don't want to participate in. Ok, back to dinner.
We had absolutely amazing seats for the show near the front of the space, but don't worry if you're seated in the back of the room or on the perimeter. Gaya will move throughout the room during the show, and everyone will feel included.
In an earlier article where we lamented that the Galactic Starcruiser puts many of the promises of Star Wars: Galaxy's Edge behind a $6,000 paywall, perhaps the most frustrating aspect was that there is no Gaya dinner show in Galaxy's Edge. Gaya was SPECTACULAR and (Disney if you're listening) we could see ourselves putting a Gaya dinner show at the top of any must-do dining list for the theme parks. As a traveling superstar with an enthusiastic tour manager, it would make sense that Gaya could perform anywhere in the galaxy – including Black Spire Outpost.
Your starter and main course will come out before Gaya performs a 45-minute set. The food was very good and served family-style – certainly more hits than misses.
Your "Evening with Gaya" dinner menu begins with a delicious Bento Experience featuring "Spiral Dumplings" filled with Tip Yip Chicken, Bantha Beef, and Flora Vegetables.
Accompanying your Spiral Dumplings are Interplanetary Dipping Sauces: Kaadu Cream (sweet and creamy), Melahnese Curry (yogurt dip), Batuu Spice (spicy aromatic condiment), and Barbecue-style (Gochujang-laced sauce).
You'll also get the Flora Noodle Salad as part of the Bento Experience.
The main course contains the Chandrilla Chef's Selections of Bantha Beef Tenderloin, Stewed Shrimp, Tip Yip Chicken, Green Herbed Fluffy Rice, and Surabat Spiced Flora.
Cruise Director's Evening Toast
Your final story moment of the evening will come during the Cruise Director's Evening Toast. We won't spoil too much in this article, but know that you'll want to attend this evening's toast to understand the events leading into day two and your excursion to Batuu. No matter which side you stand with, there's something for everyone during the toast (except free alcohol).
A quick aside before we wrap up our day one recap. The Cruise Director's Toast is at 9:45pm and lasts past 10pm. If you are traveling with children, we highly recommend that they be old enough to make it to 10pm. The show elements of the cruise generally end by 10pm each evening, but they are NOT to be missed.
Time for some sleep before a big day on Batuu tomorrow!