A short time ago, in a hotel not too far away…
We recently made our first voyage on the brand new Star Wars: Galactic Starcruiser immersive "cruise". The Star Wars-themed immersive hotel is billed as a two-night Star Wars adventure that allows you to live out your own story. In this article, we're going to discuss our experiences on the second day of our voyage, which will include information about the voyage to Batuu, some of the secret spaces around the Halcyon, unexpected moments, a climactic battle, and much more.
If you are just joining us, make sure you catch up by checking out our Day One report below. We did a lot on our first day of the ship including Lightsaber Training, Bridge Ops Training, and more!
As a disclaimer, BlogMickey.com paid 100% out of pocket for our $5,232 Galactic Starcruiser experience plus all additional associated costs such as alcoholic beverages. We were not hosted or compensated by Disney for either this cruise or any previews, which means that the opinions shared in this article are completely independent. Let's jump in!
Breakfast Before Batuu
We have a big day ahead of us and we're going to need to fuel up for the day! We're heading back down to the Crown of Corellia dining room for our first breakfast buffet of the cruise. We'll have a proper, full review of all of the meals in the future. Nothing ever ventured too exotic on flavors, but there were some items that looked alien. Descent spread, but the highlight was the Kale Porridge.
Box Truck to Batuu
Outside of the price, perhaps nothing stirred up social media quite like a sneak peek at the literal box truck that transports guests between the Galactic Starcruiser and Galaxy's Edge. Of course, as we noted in the article, there was no way that Disney would actually let guests see that they were in the back of a "Galactic U-Haul", but what was the experience actually like? In short, it was actually pretty bad. A smooth elevator ride up to the Galactic Starcruiser on day one stands in sharp contrast to the bumpy ride filled with lurching forward and obvious sharp turns while a themed radio station plays Star Wars-ish music in the background. It's hard to say that Disney cheaped out here, the interior of the truck is fully themed after all, but there have to be more elegant solutions than throwing guests into the back of a box truck. I don't think I can overstate how bad this experience was.
Guests are assigned a time to travel to Batuu, but the assigned time is probably more elastic than rigid. We'll share our opinion on the Batuu visit further down, but suffice it to say that we don't think the first transport off of the Starcruiser (at 8:40am) is necessarily a must-do.
When it is your time to board, make your way down to Deck 4 and the hallway that contains the Lightsaber Training Pod and Climate Simulator. There might be a line of guests already waiting, but hopefully, the line isn't long. Before you board, a Passenger Services crew member will take your small group into the Climate Simulator for a pre-excursion briefing. This briefing is the best time to ask any last-minute questions you might have. Of course, if you have any timing issues or concerns, it might be best to address those on day one before Muster, but the Passenger Services crew member will ask if there are any questions before boarding the transport shuttle to Batuu. You will also receive a pin to wear on Batuu that lets Cast Members in Galaxy's Edge know that you are a passenger on the Halcyon. We recommend wearing the pin for the duration of your planet excursion to allow for the best possible interactions with Cast.
You'll scan your M-Band before walking down an airport-like gangway towards the seamless connection point between the shuttle and the Starcruiser. The shuttle seats 12 and four guests are able to stand. 16 guests at a time means that the process can be slow, but there are multiple transport shuttles to attempt to shorten the wait time. Here's a look inside the transport shuttle, which includes advertisements for the Creature Stall and Savi & Sons Salvage. Information about the Batuu Transport Company and more is also available. We'll have more about the transport shuttle in a future article.
Batuu Planet Excursion Arrival
You arrive on Batuu at Docking Bay 3, located next to the First Order Cargo area in Black Spire Outpost. There are Passenger Services crew members on Batuu ready to hand you a water bottle for your day ahead on a planet with three suns. A short briefing lets passengers know that the entire docking bay doubles as a shaded rest area for guests with the special pin that denotes they are passengers on the Halcyon Starcruiser. Information about your Lightning Lane access to the attractions and meal voucher is also included in the briefing. Also, any merchandise purchased on Batuu can be left with Passenger Services, and they will ensure its safe passage back to your cabin.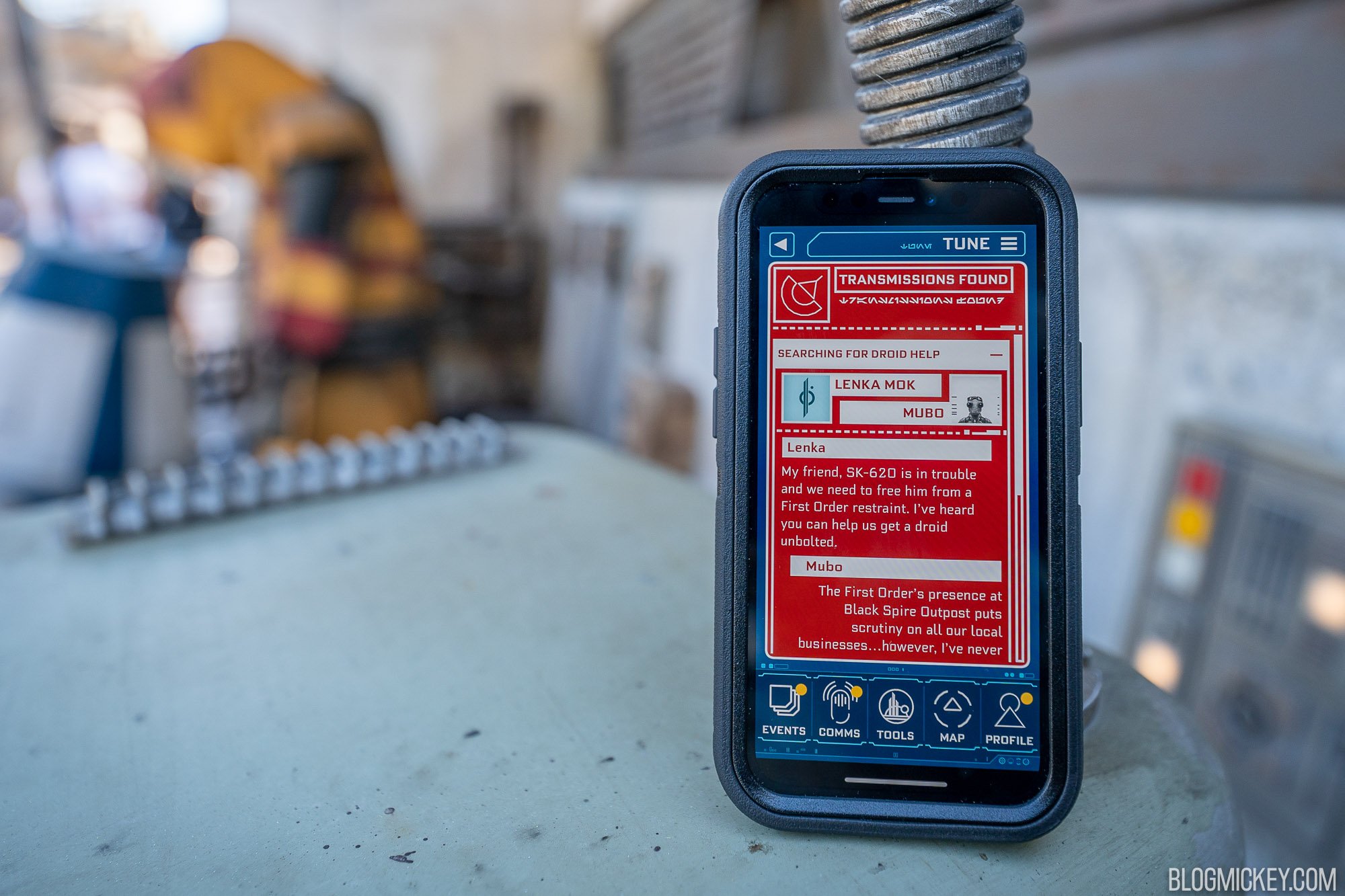 The first thing you should do on Batuu, and it pains me to say this, is open up the Datapad app. Actually, we opened up the app during breakfast to find that our day was populated with tasks at 11pm the night before. You'll likely want to start knocking out some of the tasks that are lined up for you during your Batuu excursion as quickly as possible. Unlike a normal day in Batuu, there is no rush to get to either Millennium Falcon: Smugglers Run or Star Wars: Rise of the Resistance right away because you have Lightning Lane access.
TIP: We'll have an article completely dedicated to tips for your Star Wars: Galactic Starcruiser visit in the future, but one thing worth noting now is that you should probably dedicate at least some time to playing with the regular Star Wars: Galaxy's Edge version of the Datapad in the land before your visit. It's not required and you don't get anything special for doing so, but it will help you familiarize yourself with the process of scanning QR codes and completing puzzles in the app before you start to run around the land with 4-10 tasks to complete. There is a good chance that some of those types of tasks were completed on the ship the day before if you're ambitious with your Star Wars story, but if not, it will help to know how to use the app to complete tasks so you don't waste time fiddling around.
Start with a few tasks that look like they might be nearby or easy. For example, the first task we decided to take on was over at Oga's Cantina. This was a relatively simple task (as were most), but it may have also been designed to help guests familiarize themselves with the process of scanning and hacking in the Datapad.
A Quick Drink at Oga's Cantina
Since we were in the area, we decided to see if we could grab a drink at Oga's Cantina. We didn't make a reservation ahead of time because a Jet Juice at 9:30am didn't seem like the best idea when the Resistance was relying on us, but we decided to ask about any availability anyway. Oga's Cantina is one of the most highly-demanded reservations at Walt Disney World, and we expected to be told that there was no space, but we didn't realize just how important that Starcruiser-exclusive pin would be. We had heard reports of Starcruiser passengers being given special access and priority at Oga's Cantina before our cruise, and we experienced as much when we visited. After less than a 5-minute wait, we were called indoors to a standing area in the back right of the bar. We weren't explicitly told that we were given priority access because we were Starcruiser passengers, but we believe that at least some amount of capacity is held back to prioritize walk-up passenger requests. It probably also helped that we were a small party of just two adults. If you are able to book a reservation, we still strongly recommend it as space is limited and walk-up availability is never guaranteed.
The Oga's Cantina task that we were required to complete was outside of the entrance to the Star Wars bar, so the only task we had while inside was to enjoy the vibe and our drinks. Because we wanted to be in and out of Batuu, we stuck with just a single drink while we looked over our mission list again.
Missions in Batuu
From Oga's Cantina, we started to pick up the pace a bit and start to complete tasks. No matter which faction you side with, you'll likely have tasks that will require you to at least walk towards the two attractions. We completed our non-attraction tasks in probably 45 minutes, and the drinks at Oga's may have slowed our pace a little.
Without getting too specific on the missions we completed, they were very similar to the in-land tasks that you would find with the regular version of the Datapad introduced back in 2019 when Star Wars: Galaxy's Edge opened. Some tuning, some hacking, and some scanning were all required to complete our mission on Batuu.
Before we spoke with some friends from an earlier cruise, we assumed that a visit to Batuu would be pointless. After all, even if you only slept for 6 hours per night, our per hour cost was nearly $160 and if you take a few hours off of the first day and completely remove the second day, that meant that our storyline (minus sleeping) was only active for just over 24 waking hours. Now our per hour cost was over $200, so why would we spend any of that time in a theme park land that we've spent countless hours in? In short, you are literally on a mission that will further your storyline and the overarching storyline of the Starcruiser, so a trip to Batuu shouldn't be missed – and that's coming from someone who could walk through the land blindfolded.
Back to our missions on Batuu, we found ourselves completing our non-attraction missions quite quickly, but each mission did push our storyline further along, and as we completed tasks, we received communication from various characters that we had established a reputation with. Multiple tasks completed on Batuu essentially unlocked access to ship-based story moments that would occur later in the afternoon as the story built to a climactic finale.
After completing the non-attraction missions, we turned our attention to the attractions, or rather, the single attraction that wasn't broken completely – Millennium Falcon: Smugglers Run. One of the reasons we don't recommend getting off of the ship on the first transport is the unreliability of Rise of the Resistance. As great of an experience as it is, it's frustratingly unreliable and we'd rather you spend some time enjoying the ship a bit in the morning rather than wandering around Batuu wondering when Rise of the Resistance will open.
Unfortunately, Smugglers Run was a little broken too, but still operational. The impressive Hondo Ohnaka audio-animatronic wasn't working, so we got to stare at a crate instead. Again, the polished experience of the Galactic Starcruiser stands in sharp contrast to the realities of a theme park land. Nothing that we can do about it, so we'll continue on.
Our experience on Smugglers Run was not any different than the countless times that we've ridden previously, save for a special video in the pre-flight briefing area where Hondo acknowledges "passengers from that fancy galaxy cruiser". It's a small acknowledgment, but a welcome one. Make sure to wear your M-Band to ensure that you get this interaction. Actually, make sure you're wearing your M-Band at all times whenever you leave your cabin.
A (hopefully) quick aside. Batuu felt different as a Starcruiser guest. Yes, the magical pin helps, and just about every Cast Member we interacted with played along by calling us Passengers, but we couldn't help but notice how Batuu almost seamlessly felt like an extension of our ongoing story. We were finally experiencing the land with a purpose. Our actions felt purposeful and needed. What was once a fun interaction to make a ship beep was now a covert mission to ensure that our allies aboard the Halcyon had what they needed. A podracing engine was more than a cooking tool. The contents of a crate felt like more than a digital achievement. It's clear that while the physical Galactic Starcruiser hotel was shoehorned into a swampland near a theme park, the storyline wasn't.
Ok, Rise of the Resistance is working again and it's time to make our way to the Resistance camp in the Old Outpost section of Batuu. One thing to note is that you don't actually have to ride either of the rides in Galaxy's Edge to further the story. As a matter of fact, there is a detour in the Datapad for when the attractions aren't working or you don't have time/don't want to ride them. This is critical given how unreliable Rise of the Resistance is and how precious your time is. I don't think many Galactic Starcruiser guests are here for their once-in-a-lifetime visit to Disney World, so I think it's ok to suggest skipping the rides or at least not waiting for them to be working. If you want to spend 7 hours in Batuu, go for it, but we wouldn't. We were back on the ship by 12:30pm and even that felt like enough time. We didn't do the Savi's Custom Lightsaber experience or the Droid Depot experience and we recommend skipping those if you can come back to do them at a later time.
We'll end our recap of Batuu with the redemption of our meal vouchers – or rather, the free alcoholic beverage portion of the voucher. Each Galactic Starcruiser guest will receive "One quick-service meal includes: one (1) entrée and either one (1) nonalcoholic beverage or, if age 21 or over, one (1) alcoholic beverage (where available) or, for Guests ages 3 to 9, one (1) combo meal from the children's menu offerings to be used in the theme park only". This free meal/drink combo is redeemable by scanning your M-Band. We suggest letting the Cast Member at the register know that you are redeeming a free meal credit from your Starcruiser visit.
It's tough for us to suggest eating in Batuu, but there is no doubt that the food at Docking Bay 7 is leaps and bounds better than what you'll find on the ship for the lunch buffet. It's a shame too. We think that the Starcruiser should provide at least a meal on par with Docking Bay 7, if not better, but that's simply not the case right now. At a minimum, it would seem financially prudent to take the free alcoholic beverage, but you might consider a meal from Docking Bay 7 as well.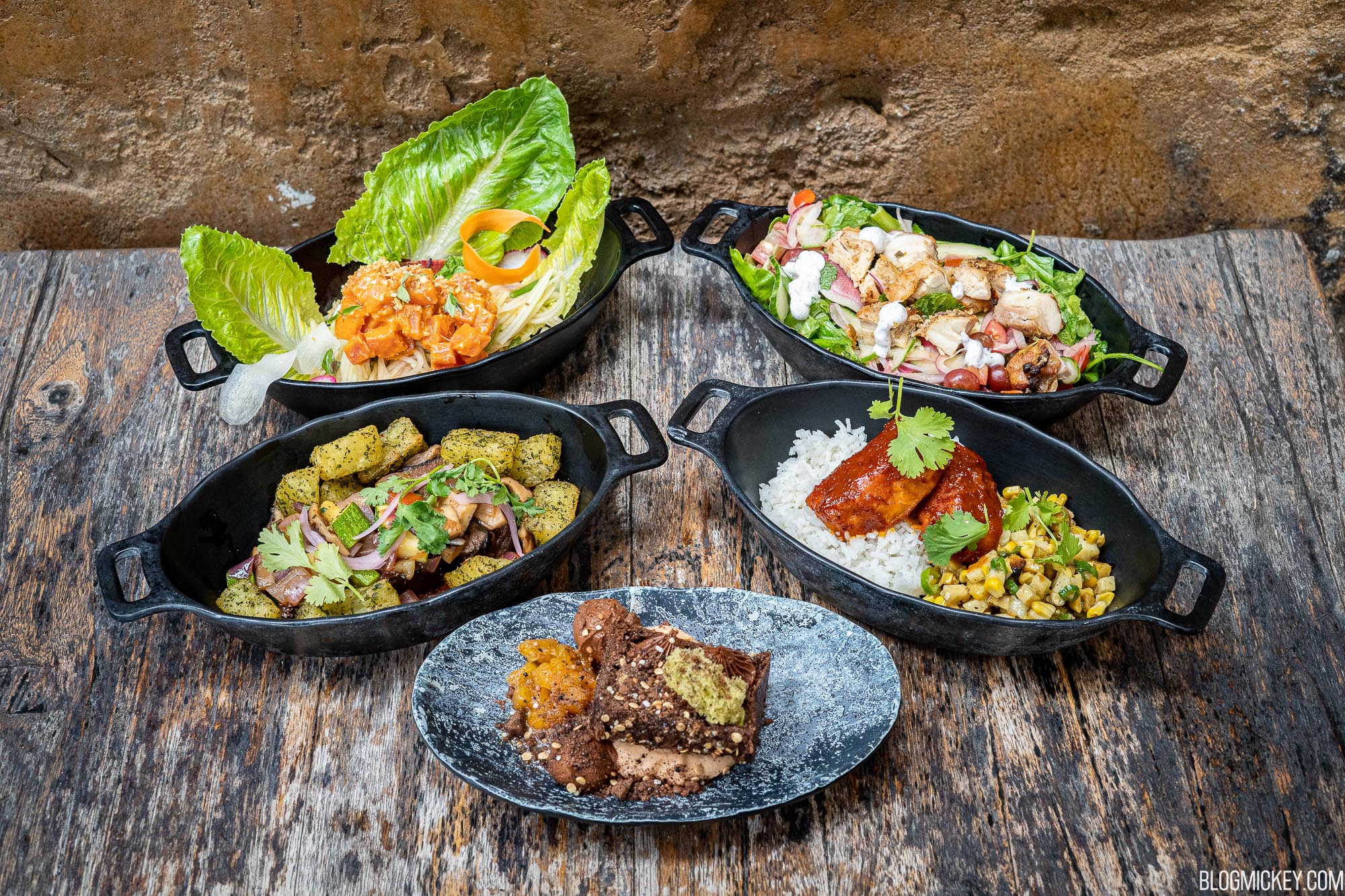 Lunch Buffet
With that glowing review of the lunch buffet as our tease, let's take a look at some of the options. Again, expect a full review to follow.
Bingo, Dance Lessons, and Newlywed Game
As with anything on social media ahead of the Galactic Starcruiser debut, some of the seemingly silly things spread the quickest – yes, it's time to talk about bingo and the galactic slide. In the grand scheme of things, these are throw-away activities. Yes, you can play a galactic version of bingo or learn steps to a galactic dance, but these activities are really just filler for guests who aren't actively participating in a storyline. As a matter of fact, the early afternoon on day two is filled with these types of activities. Check your Datapad for exact times, but you can expect to find traditional cruise activities such as Sector Set (bingo), Cantina Chronicles (non-alcoholic mixology), Sabacc Tournament, and Know Your Co-Pilot (newlywed game).
Chances are that if you're partaking in these types of activities, you are either not interested in the ongoing story, or taking a break from it. We didn't do any of these activities because we found ourselves spending a few hours in the Sublight Lounge during the early afternoon, but more on that in a bit.
Before we take a break in the Sublight Lounge, we want to talk briefly about some of the restricted access, or hidden areas aboard the Galactic Starcruiser. As you can see in the map below, there are three restricted areas aboard the Galactic Starcruiser – the Engineering Room, the Brig, and the Cargo Hold. Each of these spaces could be important to your storyline, and gaining access to them requires special codes or access. We obtained gainful access to two of the Engineering Room (eventually) and the Cargo Hold. We were never officially given access to the Brig, but we still got in thanks to some lazy door closing by other guests.
Gaining access to these spaces requires curiosity. Poke around a little bit. Ask questions. Scan things. We learned that many doors either have a "Push Here" button or an M-Band scanner. These doors are for the curious and playful – be curious and playful. It should go without saying, but the corridors where there are guest cabins don't have any special access areas and you shouldn't go scanning every M-Band scanner you see in those hallways.
Sublight Lounge
We've been postponing the Sublight Lounge long enough, and with most guests still on Batuu, it seemed like a perfect time to grab a seat at the bar and explore some of the drinks offered aboard the Galactic Starcruiser. Keep in mind that these are the same drinks that are offered at dinner (and then some), so instead of drinking at dinner, we decided to enjoy the vibe of the lounge for a few hours instead.
TIP: While the food onboard the Galactic Starcruiser is free, the alcoholic and specialty beverages are not free. We certainly wished that our $5232 buy-in included some alcoholic beverages, but we would need to burn through a few hundred more credits to get the full experience instead.
Overall, we had a wonderful time in the Sublight Lounge, but there was one element Sublight didn't have that Galaxy's Edge does have – a droid DJ. DJ Rex in Oga's Cantina brings a lively and fun atmoshphere, and at 1/4 the size of Oga's, Sublight Lounge would benefit greatly from a droid DJ. It will probably never happen, but it would certainly elevate the experience and make the lounge feel a bit more alive.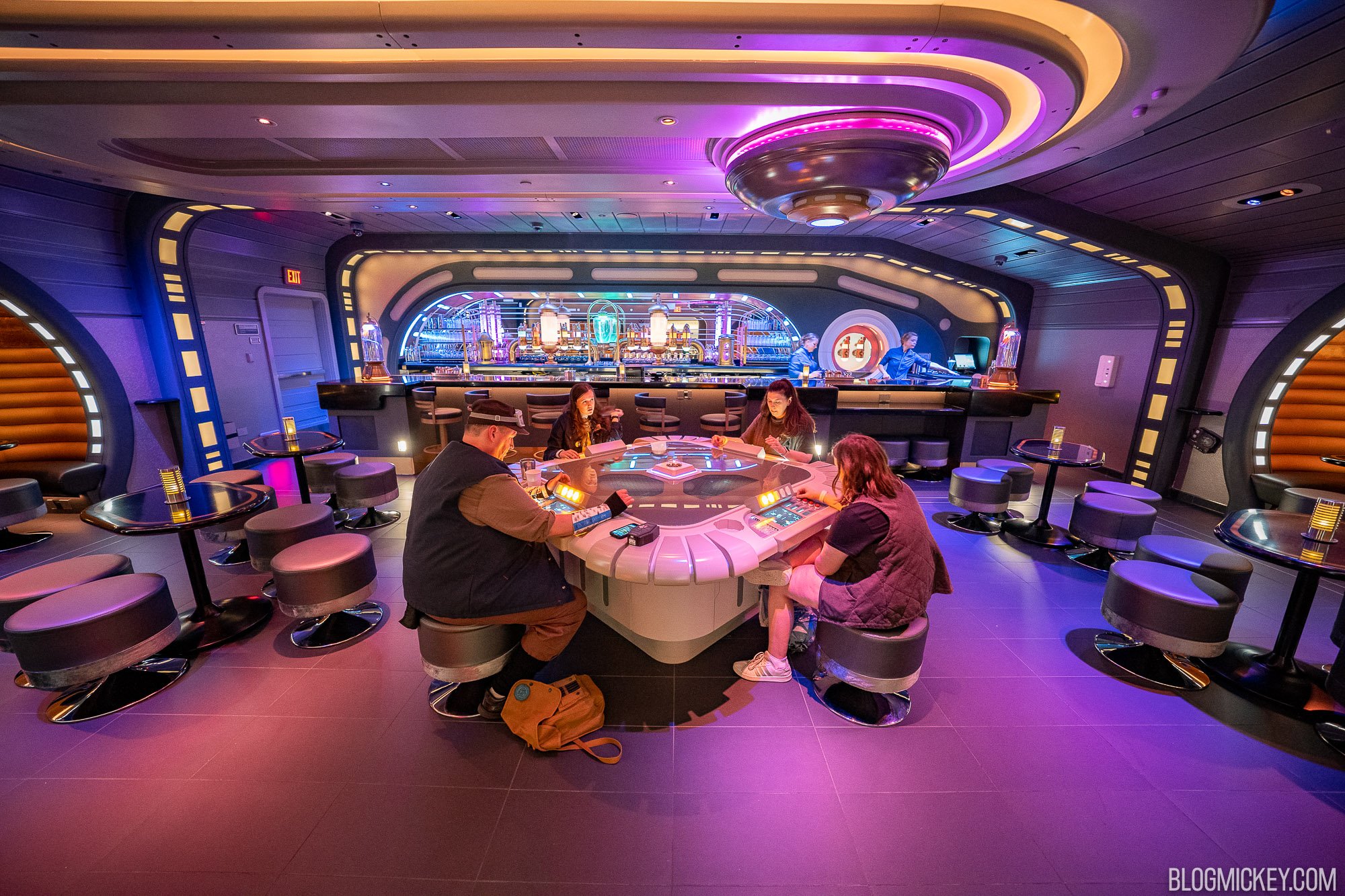 That said, we settled into the bar and had a wonderful experience thanks in large part to our bartender La'Beth. Just like every Cast Member, La'Beth had a backstory ready to go and taking a minute to slow our experience down and just chat while the bar was generally quite empty was fun. La'Beth is from the planet Felucia and was previously employed by Oga Garra on Batuu. She seemed quite happy to be on the Halcyon and not back in Oga's Cantina – even escaping before settling a credit tab with Oga (a brave move). La'Beth was very familiar with the Felucian Garden Spread from Docking Bay 7 (a favorite of ours), and even slid over a bowl of Felucian Snack Bites, unprompted, when she heard of our love of her planet's food. Just like many of our crewmember interactions, our time spent chatting with La'Beth was exceptional and one of the highlights of the cruise.
Ok, so what did we drink? Everything! We'll have a full review of the Sublight Lounge in a subsequent article, but you can't go wrong with most of the drinks and some of our favorites were the Fiery Mustafarian, Cloud of Bespin, Mark of the Huntress, and Dagobah Vimlet…to name a few.
The Story Unfolds
After spending hours at Sublight, it was time to meet up with some characters that we established a repertoire with on day one and through our tasks on Batuu. At the risk of spoiling too much of the storyline (we'll do plenty of that in other articles), the early afternoon on day two is when the story starts to build to a climactic finale later that night. We were part of the Resistance storyline, which included story moments on the Bridge, in the Engineering Room, throughout the Atrium, and beyond.
We'll take a minute here to step back from our missions to help the Resistance to talk about the game masters on the Galactic Starcruiser. You will never see them, but there is a team of Cast Members working behind the scenes to make sure that the story that unfolds on the ship runs smoothly. Cameras and microphones are everywhere so the live entertainment team can react, essentially in real-time, to the decisions that each guest makes not only through the Datapad app but also in person. Every character that you interact with has a microphone and earpiece so the game masters pulling the strings behind the curtain can ensure the best possible theater – and the fact that there are no cracks to be seen is a testament to not only the extremely impressive characters you interact with but also the team of Cast Members behind the scenes working tirelessly to ensure a smooth story. Their work is exceptional so kudos to all involved.
Taste Around the Galaxy Dinner
The night two dinner is vastly different than night one. There is no dinner show element here, and Disney abandons the family-style meal for a tasting menu. The food was generally good, but not nearly as good as the night one dinner.
The four-course meal is served one plate at a time, with a chef announcing the plate and details about what is on each plate as the waitstaff deliver the plates to the tables in sync with each other. In contrast to the lively, engaging atmosphere of the Gaya dinner show, tonight's dinner felt like an infomercial at times. We preferred the entertainment aspect of night one and were disappointed with what felt like a flat dinner. When the food is presented, the lighting in the restaurant will change with each plate, and for the dessert, an aroma is dispersed throughout the restaurant to heighten the dining experience.
Starcruiser Finale Show
While we've tried to avoid spoilers so far, I don't see much of a point in avoiding them for the climactic finale show. If you've absorbed any amount of Galactic Starcruiser content, it's no secret that you're going to have a classic face-off of good versus bad at some point. We won't be discussing anything further on our day two report, so if you're trying to stay spoiler-free on the finale moment, you can stop here. Here's a photo of the model ship in the atrium to say farewell for now too. We will have a day three trip report posted, so keep an eye out for that!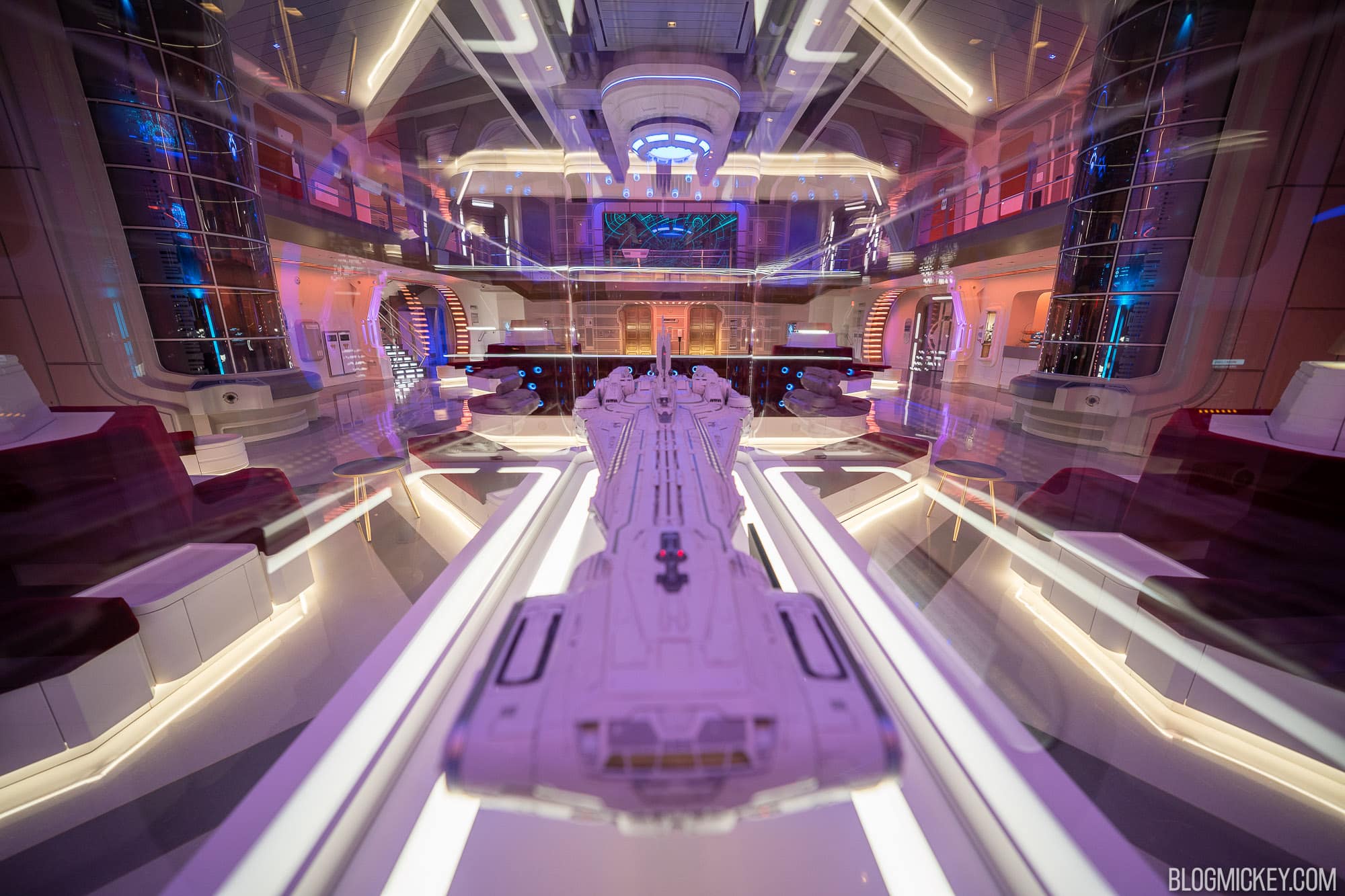 Ok, for those of you still reading, here are the details on the finale battle. Immediately following the end of the late dinner seating, there will be a shipwide alert and call to your muster stations. This shipwide alert was shown in a preview video in the Galactic Starcruiser Terminal safety video and is easy to identify as the same shipwide alert that is part of the show/story, but there is no denying that this feels like a pressing matter.
You'll be asked to join the same muster station that you joined on day one during the Ship Muster drill. Unlike Bridge Training or Lightsaber Training where guests are pushed through in waves over the course of two days, every single guest on the entire ship is in the atrium for this climactic finale. Whereas Bridge Training is the same show over and over throughout two days, this finale will only be performed once and you will NOT want to miss it.
The finale is, quite literally, the culmination of the efforts of many of the guests onboard the ship. Kylo Ren is the big bad here, and his presence was only possible (in story) thanks to the efforts of the First Order sympathizers who assisted Leuitenant Croy in alerting the First Order to the Resistance activity on the ship. Of course, the Resistance is represented by Rey, who gets to wield that "real" lightsaber that Disney has been promoting for nearly a year now. The effect is phenomenal in person, only to be undone by a poor swap to the lightsaber capable of battle. Disney will inevitably improve the transition at some point. That said, the moment is so quick and a distraction is attempted by Kylo that many guests could miss it.
The finale is phenomenal in terms of fight choreography and even a surprise that we won't reveal in this article. As you might imagine, the Resistance lives to fight another day and triumphs in the moment. While the Galactic Starcruiser is largely filled with unrelenting action (if you choose to play), there are moments of overwhelming emotion. I am a Star Wars fan, but I wouldn't call myself a superfan. I watch the movies in theaters, but I don't stay up until 3am to watch new episodes of The Mandalorian. I'm probably somewhere between a casual fan and a superfan. That said, Disney has crafted some Star Wars moments where I've found myself getting emotional. One such emotional moment was when I was creating a lightsaber for the first time at Savi's Workshop, another moment was in the final moments of day two when the fireworks were shot off of the bow of the Halcyon while the Star Wars music filled the ship. It's a perfectly crafted moment and a perfect finale to the experience.
Of course, we're not done just yet, so make sure to check back for our day three report from the Star Wars: Galactic Starcruiser soon!