The Disney Park Pass system is a pain in the ass. There's no way to sugarcoat it – the theme park reservation system that was born in a pandemic out of necessity to manage attendance and keep guests safe during an ever-changing situation is now being exploited by a company that critics say is straying further from a consumer-focused position.
Back in July 2020, Disney World reopened with an extremely limited capacity. Instead of simply shutting the gates when the daily capacity was met, Disney introduced the Disney Park Pass reservation system that required guests to make a free reservation to enter the park. This allowed guests to properly plan their visit in a time of uncertainty. The Disney Park Pass system was a necessity when it was created, but it soon became clear that Disney saw the product as key to their theme park business going forward.
Just over a month after reopening in July 2020, Disney Parks Chairman Josh D'Amaro spoke with Roger Dow about the reopening and early learnings for the company. In the interview, he talked about the Disney Park Pass reservation system and gave the first early indication of how important the system would be for the company in the future, noting that the reservation system was "here to stay".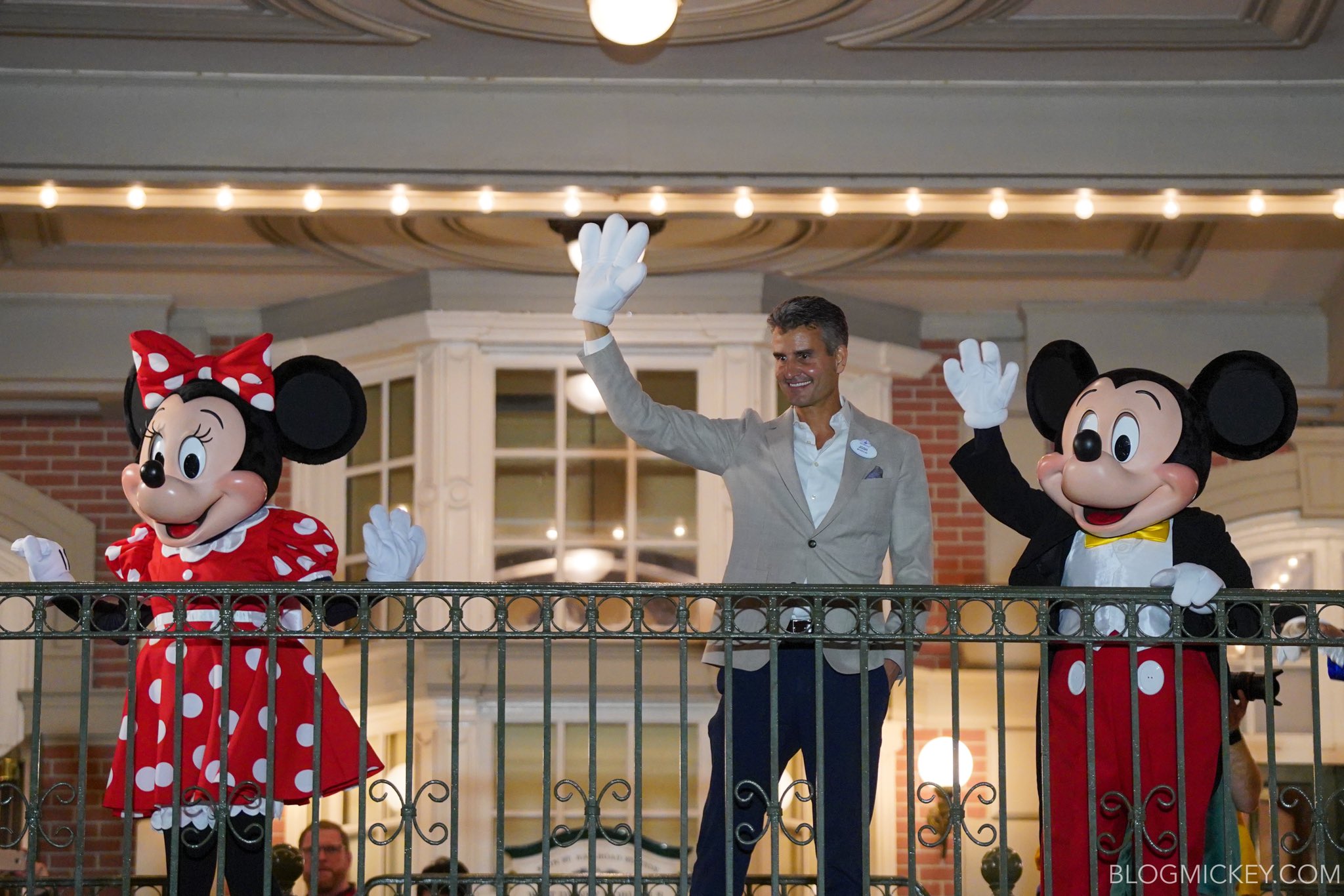 As the COVID-19 situation continued to evolve, capacity at the theme parks gradually began to increase and Disney Park Pass reservations became easier to make. Essentially, capacity was higher than demand at the time, and there was a lot of "green" on the calendar. While concerns over COVID-19 and safety measures certainly kept some amount of guests away, another factor that led to lower crowds was simply the lack of offerings. No fireworks, no parades, no special events, most hotels closed, a large number of restaurants closed – there simply wasn't a lot to do or enjoy when the parks first reopened. That said, reopening at all was an important step and the Disney Park Pass system played a critical role in allowing that to happen.
As more offerings returned and Disney made plans to celebrate their 50th Anniversary in October 2021, the Disney Park Pass system still played an important role. Disney struggled, like many employers, to properly staff their theme parks. As more offerings returned, it stretched staff thin. Long hours, mandatory overtime (in some cases), and asking Cast to wear multiple hats was not uncommon. Cast Members are the heart of Walt Disney World, and they kept the parks running, but it was clear that Disney needed to manage attendance to manage the strain that was put on their workforce.
Fast-forward to 2022 and the parks are staffed and the crowds are back. There are no capacity limits put in place on Disney by external forces such as federal or local officials. Instead, Disney has opted to impose their own capacity limitations. Disney has taken the Disney Park Pass system and they're now using it against their guests instead of for their guests. This is an important shift to acknowledge and sits at the heart of most criticisms of the system. When the parks first reopened in July 2020, many guests understood the necessity of the system, but now there is no guest-facing benefit left.
Of course, if you listen to the words of Disney executives, it's clear what the purpose of the Disney Park Pass system will be going forward – yield management. Yield management is a revenue-maximizing strategy that is essentially a corporate mandate from the likes of Chapek and D'Amaro. It says "we want to operate our theme parks with as much profit and as little overhead as possible". It's a strategy that employs variable pricing and dynamic staffing to allow for maximum revenues. In a recent webinar, Disney CFO Christine McCarthy said that the Disney Park Pass system is a "key linchpin" in the technology stack that allows Disney to operate the business better. She acknowledges that the Park Pass system was initially born out of the pandemic, but that Disney saw the usefulness in the system to balance the load on their theme parks.
Now, we needed [the Disney Park Pass system] when we were severly limited in capacity when the Government restrictions were such that you could only allow 10%, 20%, 25%, but then we saw that we could actually use this even when the restrictions were lifted.

We know how many people are going to the parks on a given day, and if they've filled up a certain amount, or how many reservations would be left for people walking up last minute, but it allows us to better balance load throughout the year, throughout the week, throughout the month. So that's something that has really given us a toggle for how we're going to manage attendance.
In short, and this is the frustrating part, you can visit when it's convenient for Disney, not when it's convenient for you. The Disney Park Pass system isn't for guests, it's for Disney.
Let's be clear, the Disney Park Pass system itself isn't difficult to navigate. You select a date, select a park, and confirm your reservation. It's relatively simple, and while we think that making a date-based ticket should guarantee your reservation, the system by itself is easy to use. Of course, we say that as guests who have used the system countless times, so maybe there is a blind spot there. What is really a pain in the ass about the Disney Park Pass system is how it doesn't seem to work as advertised and the fallout from the system.
We'll start with the fact that it doesn't seem to be working as advertised. Disney execs will praise the system as a tool to manage capacity. However, the parks feel busy and wait times are higher than what would be expected this time of year. In that vein, it seems like the Disney Park Pass system isn't working. Of course, there are a host of changes that play into the wait times – the biggest offenders being the Disney Genie+ and Individual Lightning Lane offerings. We won't dive into that now, but suffice it to say that when the top executives of The Walt Disney Company praise the Park Pass system as a way to manage attendance and provide a great experience to guests in the park, the argument breaks down quite a bit when wait times for attractions are the same or even higher than what guests are used to experiencing without the Disney Park Pass system.
Another impact that the Disney Park Pass has on the Walt Disney World experience is Park Hopping. If you've visited the Disney World theme parks since Park Hopping returned in January 2021, you may have run into the issue of having to tap into a theme park with "availability" in order to visit the theme park of your choice. For example, if we wanted to visit Magic Kingdom but it was "full", one way of getting into the park would be to make a Disney Park Pass for EPCOT, tap in at EPCOT, and then visit Magic Kingdom with our Park Hopping entitlement. Of course, don't try to do this before 2pm, because Disney World has an arbitrary rule of not allowing Park Hopping before 2pm.
When Disney announced the return of park hopping, they said that they were implementing modifications as part of their ongoing efforts to focus on health and safety. That is, the 2pm restriction was put in place as a COVID-19 modification. In the initial announcement, Disney said that the park hopping rules were "designed to help us continue managing attendance in a way that fosters physical distancing." Physical distancing is not monitored or enforced at Disney World and hasn't been for quite some time. By and large, Disney has abandoned most health and safety measures that were implemented following the start of the COVID-19 pandemic.
Now, the only valid reason to not allow the free movement of guests between Disney World parks is so that the Disney Park Pass system isn't undermined. Using our example above of trying to visit Magic Kingdom, we could undermine the Disney Park Pass system by tapping into EPCOT at 8am and jumping over to Magic Kingdom to rope drop Seven Dwarfs Mine Train by 9am. It would seem that as long as the Disney Park Pass system is in place, so too will restrictions on Park Hopping. It is all completely unnecessary when only considering the guest experience.
Should Disney want to remove the Disney Park Pass system, we have to consider how else they might manage attendance. The biggest lever we can think of is even less popular than the Disney Park Pass system – raising prices. Simply put, if Disney charged more for tickets, they would see lower attendance – that's basic supply and demand. If Disney is going to put a limit on supply by saying that they will only put 40,000 guests in Magic Kingdom instead of 75,000, they can raise prices until demand matches supply. Every time that Magic Kingdom runs out of Park Passes, Disney is leaving money on the table.
If recent comments are to be believed, Disney seems adverse to raising base ticket prices. In a March 7th webinar, McCarthy noted hasn't risen from the $109 price point in years. She called the entry-level price steady, stable, and affordable. She said that not raising the entry-level price is a philosophy that Disney has to ensure that their products are accessible. As we've documented, that doesn't mean that Disney isn't raising the average cost of tickets across multiple dates though.
In this article, we're not going to argue in favor of an entry-level ticket price of $150, but we're also not willing to accept the terrible guest experience that the Disney Park Pass system leads to. So, we turn to you, our readers, and ask the following question: what's the alternative to the Disney Park Pas system?
As always, keep checking back with us here at BlogMickey.com as we continue to bring you the latest news, photos, and info from around the Disney Parks!