When Disney CEO Bob Chapek said that he expected to have a face mask mandate in place through the end of 2021, he allowed for one caveat – a "game changing" vaccine rollout. As we continue to see Disney relax some of their COVID-19 safety protocols we want to ask one question: "what's next"? (Updated May 5, 2021)
"Return to Normal" Timeline
We'll start by exploring Chapek's comments a bit more to understand what those at the highest levels of The Walt Disney Company are thinking as far as a timeline.
Chapek said that as Disney continues to increase capacity at open theme parks and reopen closed theme parks, Disney expects to have some level of social distancing and mask-wearing for the remainder of 2021.
That said, Chapek made his comments on the same day that infectious disease expert Dr. Anthony Fauci said that he hoped that he hoped that the COVID-19 vaccines would be available to all Americans by April. Chapek called this timeline a "game changer" and said that it "could accelerate our expectations".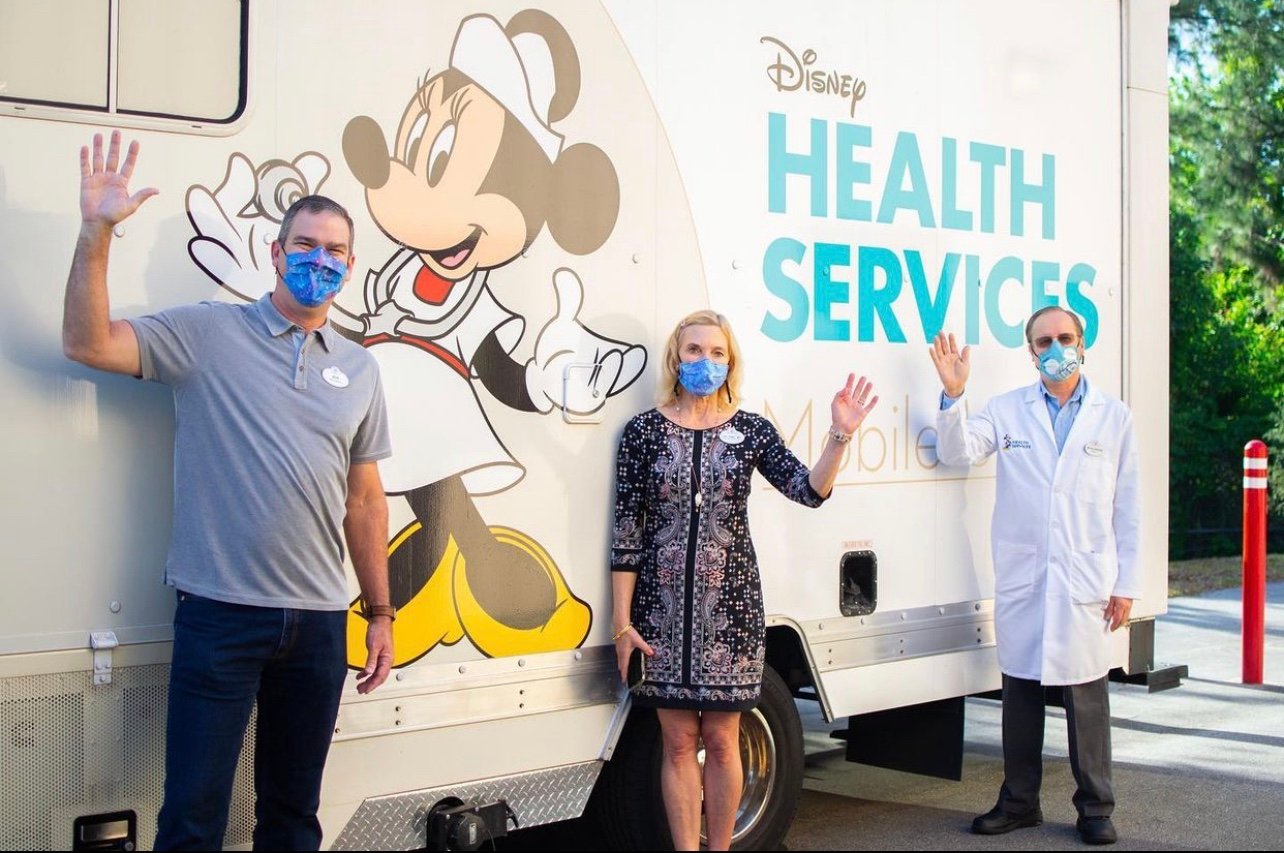 As of publish time, more than 250,000,000 vaccines have been administered, representing more than 45% of the population in America. Of course, most vaccines require more than one dose, so the percentage of the United States population that is considered "fully vaccinated" sits at just over 32% and is increasing every day.
When you combine the promising vaccine data with Chapek's comments, it's not impossible to see a summer at Walt Disney World where some of Disney's COVID-19 safety protocols start disappearing and capacity begins to increase on a "return to normal".
Temperature Checks
As we look towards the future and what safety measures could start to disappear first, we think of temperature screening.
---
UPDATE: Disney has announced that temperature checks will end on May 16th.
---
Back in September 2020, the Centers for Disease Control and Prevention said that "symptom-based screening has limited effectiveness" due to asymptomatic carriers or those who present only mild symptoms.
While we don't have exact data on how many people have been stopped at the AdventHealth-operated temperature checks at the theme parks, we can only think of less than five occasions that we have observed guests who have not passed the temperature screening.
When you combine the fact that the CDC says that symptom-based screening is limited in its effectiveness with the costly AdventHealth operations, we think that temperature screenings could be removed this summer.
Physical Distancing
The singular protocol that prevents Disney from operating at higher capacities is the 6′ physical distancing recommendation from the CDC. While guidance from the CDC still recommends 6′ distancing in public spaces, they did update their school guidance to allow for a smaller 3′ physical distancing bubble. This guidance was updated for a variety of reasons, but does rely on universal masking – something that has been in place at Walt Disney World since the theme parks reopened in July 2020.
Out of all of their safety protocols, Disney seemingly puts a premium on physical distancing. Even in their face mask protocols, they say that "the use of face coverings is not a substitute for physical distancing." This approach signals that physical distancing is one of the top protocols in their multifaceted approach to safety.
That said, we anticipate that physical distancing requirements will be dropped as herd immunity from vaccinations develops. Even a reduction to 3′ physical distancing would effectively double theme park capacity – something that would bring the crowd levels back to "normal".
---
UPDATE (5/12): Disney World has announced that they will begin to relax physical distancing around their theme parks and resorts.
---
Mandatory Face Masks
Out of all of the safety protocols currently in place, we expect mandatory face masks to stay in place the longest. With the rollout of vaccines across America, there are guests who are currently fully vaccinated that are visiting Walt Disney World. Despite their almost non-existent risk of serious illness, Disney has maintained that they must continue to wear masks – even when fully vaccinated.
In fact, the CDC guidelines that allow for a reduction in physical distancing in schools are dependent upon universal masking. As physical distancing requirements are reduced or dropped, face masks will likely move into the top spot in the Disney safety protocol hierarchy.
Going back to Chapek's comments, he noted that as Disney increases capacity, there will be some level of social distancing and mask-wearing. That said, we can see Disney adopting a hybrid approach to face masks like other regional parks have done. With the outdoor transmission of COVID-19 significantly lower than indoor transmission, we could see Disney dropping the face mask requirement while outside or not in attraction queues. This could act as a bridge between mandatory mask utilization and a "return to normal". Any change in procedures would need to be a blanket change for all guests and not differentiate between vaccinated and non-vaccinated guests.
Relaxed Safety Guidelines
As we continue to monitor the changing safety protocols, we wanted to provide a roundup of safety protocols that have been relaxed.
Removing Face Masks for Photos
On April 8th, Disney began to allow guests to remove their face coverings for physical distanced, outdoor photos. This represented quite a major shift in policy, and the first time that guests would be able to remove their face covering for anything other than eating or drinking in a theme park.
Removing Hand Washing Stations
Following the relaxation of the requirement to keep masks on for photos, Disney has removed hand washing stations from their theme parks.
Water Park Safety Policies
When we think about Disney relaxing safety protocols, we think of the reopening of Blizzard Beach. Due to the nature of water parks, it is prohibited to wear face coverings in the water and difficult to wear face coverings while walking around. There are some high density areas where face coverings are required, but those are only in a handful of areas. Disney has essentially conceded that face coverings aren't mandatory in outdoor areas – something we think could carry over into the theme parks as more and more people are vaccinated and herd immunity is established.
Fireworks, Entertainment, and More
Of course, with the relaxation of safety protocols, many of the suspended activities and entertainment can return. According to many Cast Members we've spoken with, physical distancing requirements are the main blockade for a return of fireworks and entertainment.
To date, Disney has only debuted one major stage show in the Frozen Sing-Along. Later this summer, the Festival of the Lion King will return to Disney's Animal Kingdom as another entertainment offering. We are of the opinion that Disney is taking a stance of under-promising and hoping to over-deliver with regards to entertainment. It's likely that the Festival of the Lion King is just the first of many entertainment offerings set to return to the theme parks. We anticipate that fireworks will once again fill the night skies over Walt Disney World by this fall, if not sooner, should vaccination rates continue at their current pace.
As we wrap up this article, we want to stress that the information here is speculative, and that Disney has not formally announced a "return to normal" yet. Where possible, we linked to announcements of official policy changes, but any information not directly given out by Disney should be treated as unofficial.
---
As always, keep checking back with us here at BlogMickey.com as we continue to bring you the latest news and photos from around the Disney Parks!