Over the past decade (2009 – 2019) EPCOT has seen the least growth in terms of attendance of any Walt Disney World theme park (per Themed Entertainment Association data). This is particularly striking because those numbers are raw numbers that are not adjusted for a percentage of maximum capacity for a theme park. Even Disney's Hollywood Studios, which can accommodate much fewer guests than the sprawling EPCOT theme park, had more growth in terms of raw attendance numbers.
EPCOT, which is the second-oldest theme park at Walt Disney World, also used to be the second-most popular in terms of attendance. However, the introduction of Pandora – The World of Avatar to Disney's Animal Kingdom allowed the nature-themed park to surpass EPCOT in 2017. Animal Kingdom has held on to the second place position since 2017 and has widened the attendance gap to more than 1.4 million visitors annually. Disney's Hollywood Studios, which is about 1/3rd the size of EPCOT, has closed the attendance gap to less than 1 million visitors behind EPCOT.
The slide in status for EPCOT is seemingly not lost on Disney. Long before COVID-19 entered the global dictionary, Disney announced some extremely ambitious plans for EPCOT. Essentially, they were going to rebuild a giant plot of land in the heart of what was known then as "Future World", they would be adding some IP magic to World Showcase, and they would make EPCOT the first Disney World theme park to welcome a Marvel attraction. Now, just a couple of weeks before Guardians of the Galaxy: Cosmic Rewind opens to the world, we wanted to take a look at what could be a springboard for EPCOT attendance as the park enters its quadragenarian years.
Disney's ambitious plans for EPCOT have been coming in phases. Last fall, the first wave of substantial additions and updates came in the form of Remy's Ratatouille Adventure, Harmonious, Creations Shop, and Spaceship Earth Points of Light.
As we head into summer, the undeniable focus will be on Guardians of the Galaxy: Cosmic Rewind. Disney also opened up a massive food and beverage location called Connections Cafe & Eatery recently to support a renewed interest in the World Discovery neighborhood thanks to Cosmic Rewind.
Looking forward, the fog in the crystal ball is starting to dissipate thanks to updated concept art that revealed a long-rumored change to the World Celebration plans. While there's no way that the current pace of Disney World construction projects will allow for a reimagined World Celebration to open in time for EPCOT's 40th Anniversary on October 1, 2022, the future of the park is becoming clearer as Disney really leans into the main driver of attendance at EPCOT – seasonal festivals.
The question at this point is: will it be enough? As much as we're looking forward for the World Celebration projects to be completed, there is still an aura of budget cuts and failed projects at EPCOT. One need not look further than the park's icon – Spaceship Earth.
On February 25, 2020 it was announced that Spaceship Earth would be closing on May 26, 2020 for an extensive refurbishment. Concept art was released, a video was produced, and then-Disney Parks Chairman Bob Chapek stood in front of hundreds of diehard fans to announce changes to the beloved attraction. However, the world changed between February 25th and May 26th 2020 and the Spaceship Earth refurbishment project appears to be on an indefinite hold.
Heading out to World Showcase, a promised Mary Poppins addition to the United Kingdom Pavilion also appears to have been cut from future plans. A promised technical upgrade to Wondrous China is talked about as much as the PLAY! Pavilion – radio silence. The PLAY! Pavilion was supposed to open in 2021 and now it sits behind a chain-link fence as nature reclaims pathways that used to lead to the Wonders of Life pavilion.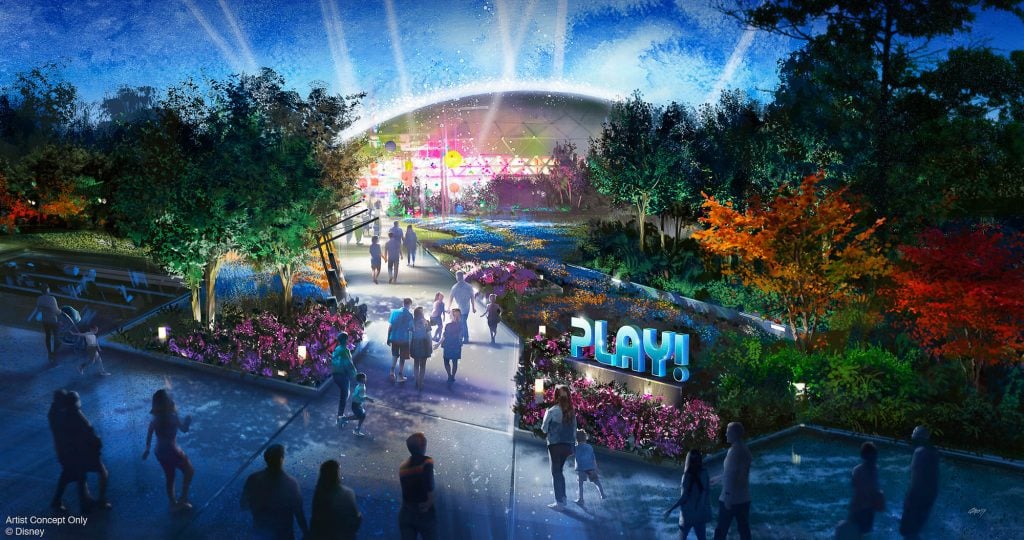 With a virtual queue in place to stifle crowds when Cosmic Rewind first opens, and with World Celebration still mostly construction walls and dirt, it might take a year or two for EPCOT to reclaim its second-place attendance spot, but it certainly looks positioned to reverse an attendance trend that would've put it in fourth place in no time at all.
Before we conclude this article, we want to talk briefly about "attendance" and add a caveat to this entire argument – the Disney Park Pass system. Executives excitedly discuss the Disney Park Pass system any chance they get. The system, leadership says, is designed to spread out demand and allow for a more pleasant in-park experience for guests who are able to secure a reservation. While we still don't have a full picture of what the Disney Park Pass system will do to raw attendance numbers, execs indicate that they are artificially keeping capacity lower than pre-pandemic figures. That means that we could see some odd attendance figures in the years to come, but it's also worth pointing out that EPCOT consistently has the most availability when it comes to Park Pass reservations. That likely indicates two things. First, square footage is high at the theme park and raw guest capacity limits are high. Second, relative demand is low. For example, there might be 35,000 guests per day that want to visit Disney's Hollywood Studios and EPCOT, but that figure could represent a "sold out" Hollywood Studios but not at EPCOT. Long story short, we think that with the addition of Cosmic Rewind this summer, and more additions next year in World Celebration, we could see demand increase for EPCOT as the park heads into its fourth decade.
As always, keep checking back with us here at BlogMickey.com as we continue to bring you the latest news, photos, and info from around the Disney Parks!