We're heading out to the moon of Pandora to check out the Flight of Passage ride at Disney's Animal Kingdom. In this alien world, mountains float, plants glow, and you can link up with your own Avatar to fly high above the beautiful landscapes. Check out our Flight of Passage ride guide below!
| | |
| --- | --- |
| Opening Date | May 27, 2017 |
| Height Requirement | 44″ |
| Type | 4D Simulator |
| FastPass+ | Yes, Tier 1 |
| Extra Magic Hours | Yes, morning |
| Ride Length | 4:30 min |
Flight of Passage COVID-19 Safety Measures
With the reopening of the Walt Disney World theme parks in July 2020, Disney has introduced new safety measures and protocols for Flight of Passage. Here's a complete look at the Flight of Passage safety measures:
Flight of Passage Ride Location
Flight of Passage is located within Pandora – The World of Avatar. The easiest way to find the entrance is to walk under the impressive floating mountains and seek out what will surely be a long line. One of the conceits of Pandora – The World of Avatar is a more natural approach to theme park exploration. While there is signage in the land to help you navigate the 12-acre space, you won't find traditional signage for the entrance to an attraction like you might be use to.
Once you get under the floating mountains, you will see Cast Members in blue and burgundy signaling the entrance to the attraction.
Another way to find the Flight of Passage queue entrance is to find the banshee woven totem under the floating mountains of Pandora!
Flight of Passage Queue
The Flight of Passage queue is one of the longest, most detailed queues at all of Walt Disney World. It is said to hold 2 to 3 hours worth of guests and contains multiple scenes for guests to enjoy.
The entire land of Pandora can be surmised by one word: Beautiful. The rest of this guide will try hard to represent the beauty.
The scene is set by a short overflow queue that has guests pass by this scene, layered with detail, equally natural and alien. Outdoor kinetics are provided by a waterfall that starts at the top of the mountains in the distance and works its way into a small pond.
Standing on the bridge hidden by foliage in the photo above reveals our vantage point under the floating mountains of Pandora. This is one of the best
Once the sun sets, the mountains and plants come alive, providing another naturally beautiful and unfamiliar setting.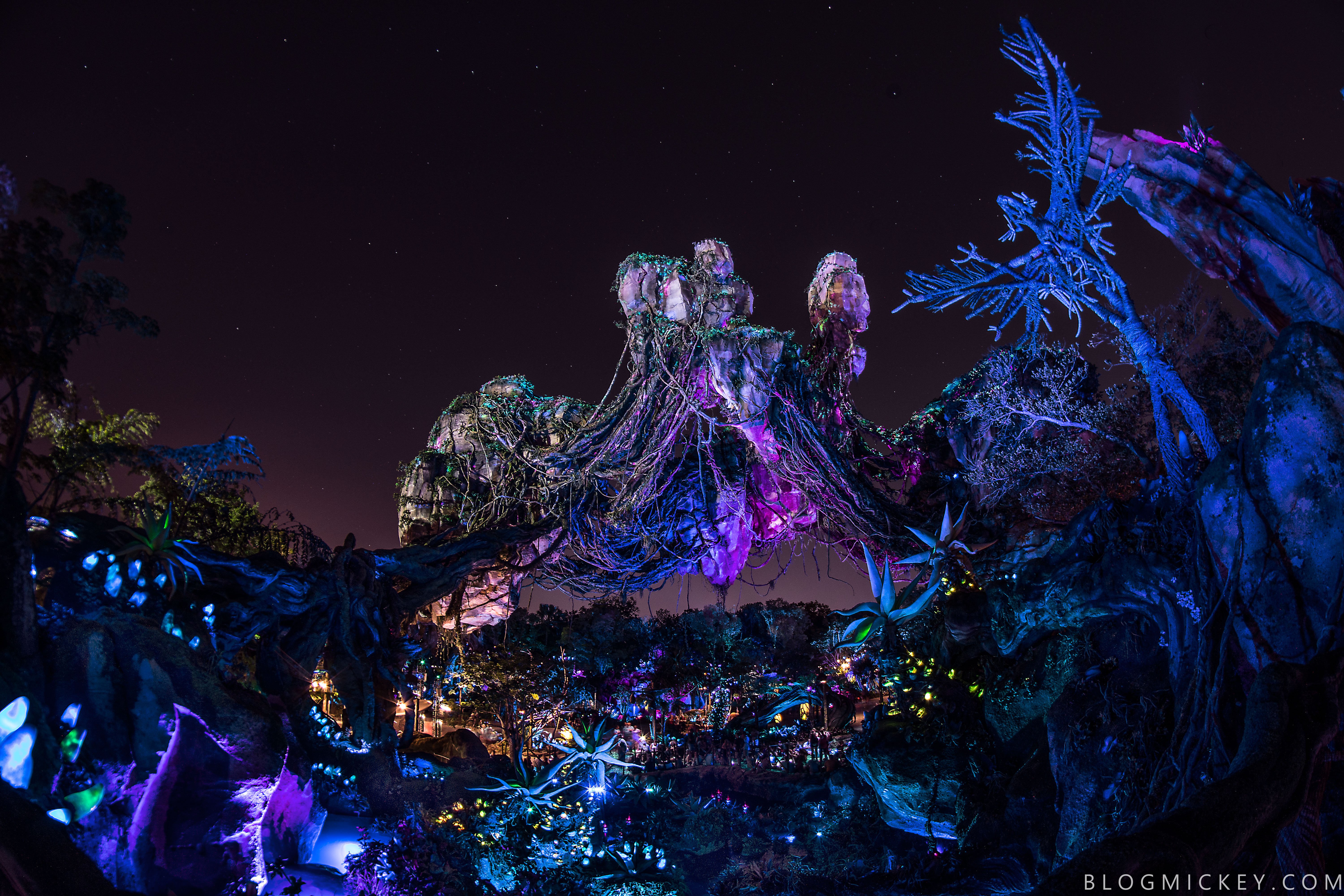 After a winding outdoor path, we enter a cave system that contain paintings from the Na'vi culture.
Caves eventually give way for a more industrial setting. A breach of the airlock has caused plants of all kinds to take over a portion of the facility. Young Banshees can also be heard in this section as you make your way up into the part of the research facility that is still functioning.
Walking through the research field site, we are treated to some of the same nighttime scenes we could see outside. One of the nice things about this section of the queue is that it allows guests to experience some of the bioluminescence that they might not be able to experience in the land if they don't stay past sunset.
After a gradual incline, we enter a research facility.
It's in this research facility that we get to come face-to-face with an Avatar. This isn't a captured Na'vi, but rather a clone that we will later sync up with to be able to fly on the back of a banshee! Unless you have watched the movies, the whole process of linking up hasn't been explained yet, so many guests think that this might be a captured Na'vi. It'll all be explained in a bit.
Making our way through the lab, we find on last, cavernous room that shows the massive navigational tracking screen used by the Pandora Conservation Initiative as they track riders flying across the moon of Pandora. Past this room is the theater where you will be linked to an Avatar and take flight over the moon of Pandora.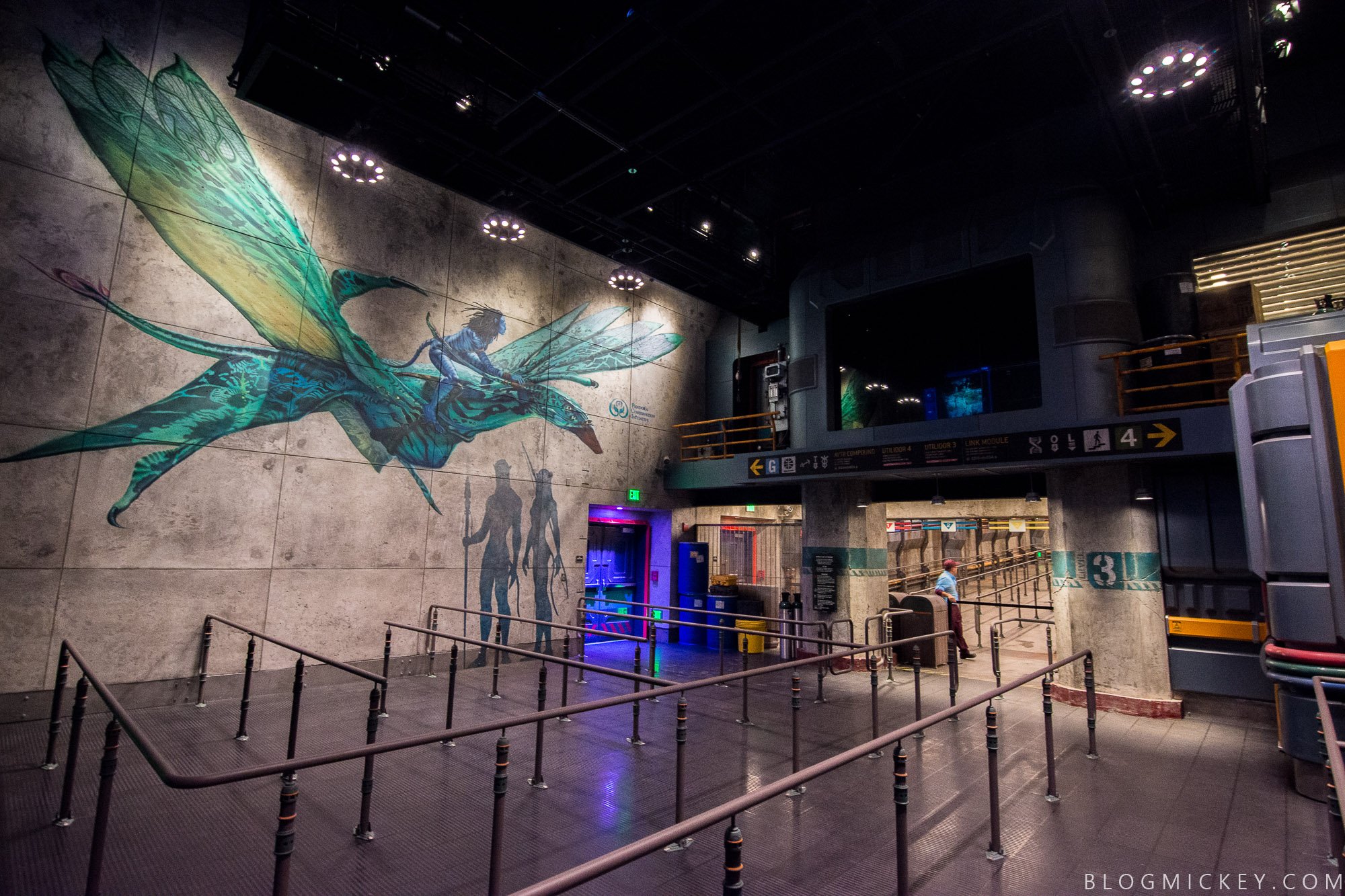 If you'd like to take a full, virtual walk through of the queue, check out our video below!
FastPass+
FastPass+ is offered at Flight of Passage. FastPass+ really is a catch 22 here. On the one hand, Flight of Passage usually pulls long waits, making FastPass+ a wonderful option in the overall touring plan for your day. On the other hand, the queue is one of the most detailed and unique queues at Walt Disney World.
You can save a tremendous amount of time by getting a FastPass+ for Flight of Passage, perhaps more than any other attraction at Walt Disney World. All in all, we still think that a FastPass+ would be the best option for the average guest. If you get the chance and have the time, check out the Standby queue before your trip is over.
Grouping and Seating
Standby and FastPass+ guests are grouped into various lines that either take you up or down a ramp to the "Link Chambers", which is the start of the pre-show.
Each Link Chamber will hold 15 guests, and Cast Members will keep your party together.
Inside the Link Chamber, you'll be asked to stand on a spot with a number. Keep this number in mind as it'll represent what spot you will stand in for the next room, and ultimately, what seat you sit in.
Check out our video of the two Flight of Passage pre-show rooms below.
For seating, each seat is individual and they're all in a row, very much like Soarin'.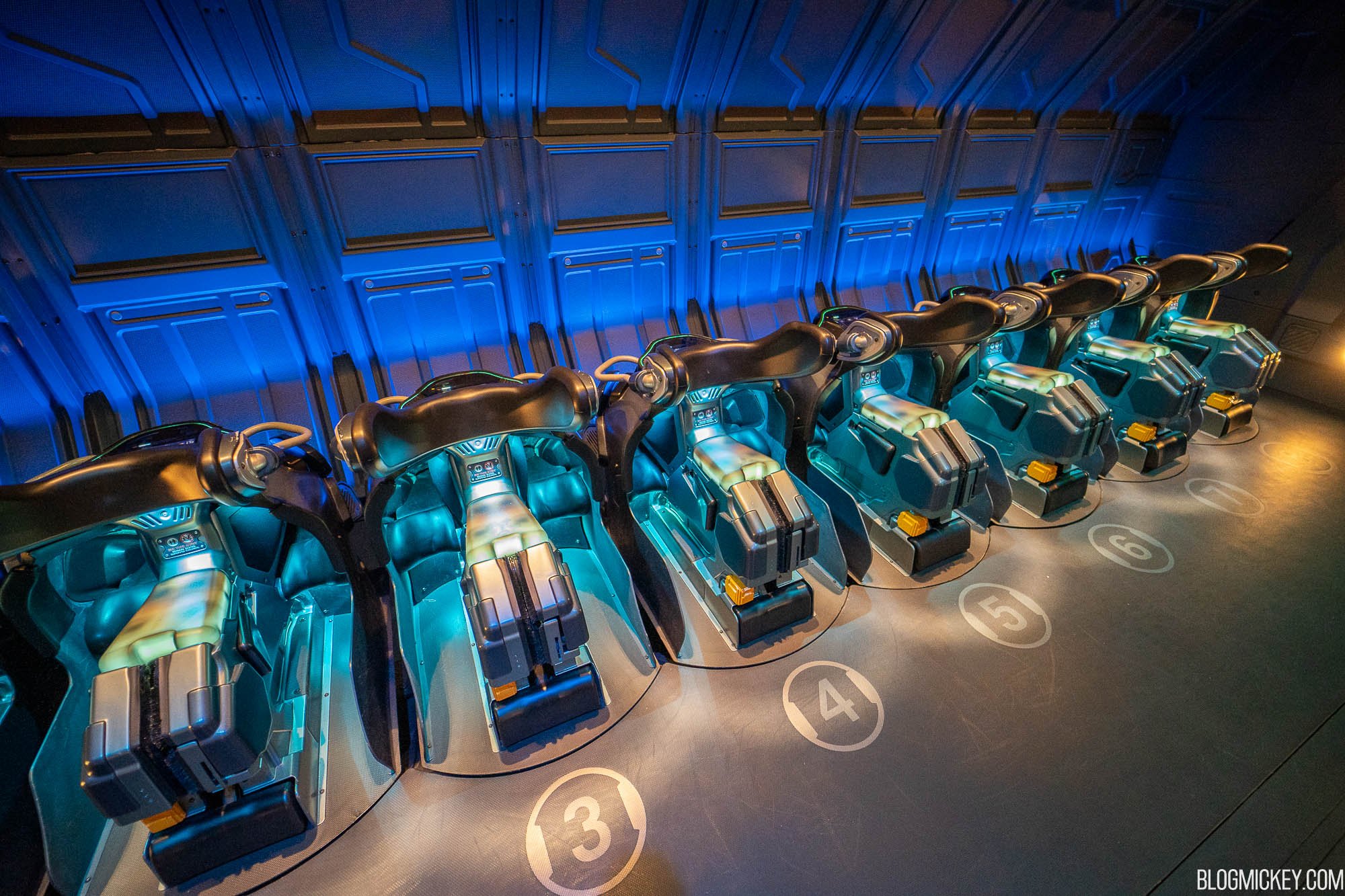 Each seat consists of a chest pad that you'll be asked to scoot all the way up to so the back restraint can click into place. There will also be a calf restraint that keeps your legs from sliding. Larger guests might have difficulty with either of these restraints, but there is a test seat that you can try outside the entrance to the attraction.
Here's a behind-the-scenes look at testing that gives you a good idea of how the back restraint works.
Flight of Passage Wait Times
Flight of Passage has one of the longest waits of any attraction at Walt Disney World. With an average wait time of just over two hours, guests will benefit greatly from a touring plan that will help them enjoy Flight of Passage and then move on to other attractions and experiences in Disney's Animal Kingdom.
Our advice to make the most of your day at Disney's Animal Kingdom involves rope dropping Flight of Passage. Alternatively, you can save it for the last ride of the day too for lower wait times. If you want to learn more, check out our Flight of Passage rope drop guide below!
Flight of Passage Ride Review
Flight of Passage has been an unexpected hit at Walt Disney World. The Avatar IP isn't something that is in the forefront of culture and a delay in brining sequels to theaters means that people are only familiar with the 2009 movie…if even that!
Flight of Passage is essentially Soarin' on steroids. A nearly 100 foot screen stretches across 3 floors of seating to create an edge-to-edge experience that immerses you in the action. Motion seating tilts you gently from side to side while the entire floor drops up to 8′ at a time.
As far as the on-screen material, Flight of Passage takes you through cinematic scenes that are beautifully and convincingly rendered. Creatures big and small roam above and beneath you as the attraction takes you through various terrains and landscapes on Pandora.
Your flight across the moon of Pandora is not only a ride for your eyes and ears, but also your sense of touch and smell. Mist from a waterfall can be felt as you fly a little too close and a variety of scents compliment the stunning scenery.
From a technical standpoint, this ride is cutting edge. The effects of dropping off of a cliff and banking around floating mountains is accomplished in two parts. The first is the actual theater itself. The floor that your row of link chairs sits on actually separates from the floor that you walk in on. While these are obviously level when you board, the separation in-flight allows for a vertical range of motion that is probably 5-8 feet. The second part is the actual link chair itself. It doesn't move forward, backwards, up or down relative to the other chairs, but rather pitches forward and back to provide a convincing "falling forward" or "halting" feeling. Every motion of the theater and seat is meticulously and precisely timed, creating the most convincing motion we've ever experienced in a simulator-type ride.
Story
The story of the attraction begins when you get in line. As has been the case with Imagineering for a few years now, the queue is considered "scene one" of an attraction. In Flight of Passage, the story begins with the cave systems that show the deep connection to the moon that the Na'vi have had.
It might not be immediately clear before the pre-show, but you're entering a research facility that use to be used to mine the natural resources of the moon by the RDA (Resources Development Administration). The PCI (Pandora Conservation Initiative) has since taken over and you're essentially on a research mission.
By entering the link chambers, the PCI is helping you find a genetic match to an Avatar that you will use to ride a banshee to explore the moon. During your exploration, you'll be led by a Na'vi guide that will take you through the moon of Pandora.
Flight of Passage Ride News
Here is the latest news about Flight of Passage at Disney's Animal Kingdom!