With just days to go until Walt Disney World kicks off "The World's Most Magical Celebration", we wanted to take a look at what new attractions and experiences will debut during the 50th Anniversary celebrations. We'll also take a look at projects that may be scrapped or delayed that were previously announced. Let's check out the Disney World 50th Anniversary plans! (Updated September 27)
18 Month Celebration
First, let's start with the fact that Disney has announced that we'll still be celebrating the 50th Anniversary into 2023. The 18-month long celebration was billed to be one for the ages before COVID-19 closed the theme parks (and construction sites) in mid-March 2020. Since then, Disney has internally scaled back the planned celebrations for October 1, 2021, but will likely still check most of the boxes off of their list by the time the celebration comes to a close in Spring 2023.
"In Time" or "During"
A shift in messaging has accompanied a delay in construction at the Walt Disney World Resort – leading to attractions and experiences to debut "during" the 50th Anniversary celebrations instead of "in time" for the kick off of the celebrations on October 1, 2021.
Officially, Disney still has press releases out right now that claim a few attractions will be open "in time" for the 50th Anniversary that simple observation of construction sites would suggest otherwise.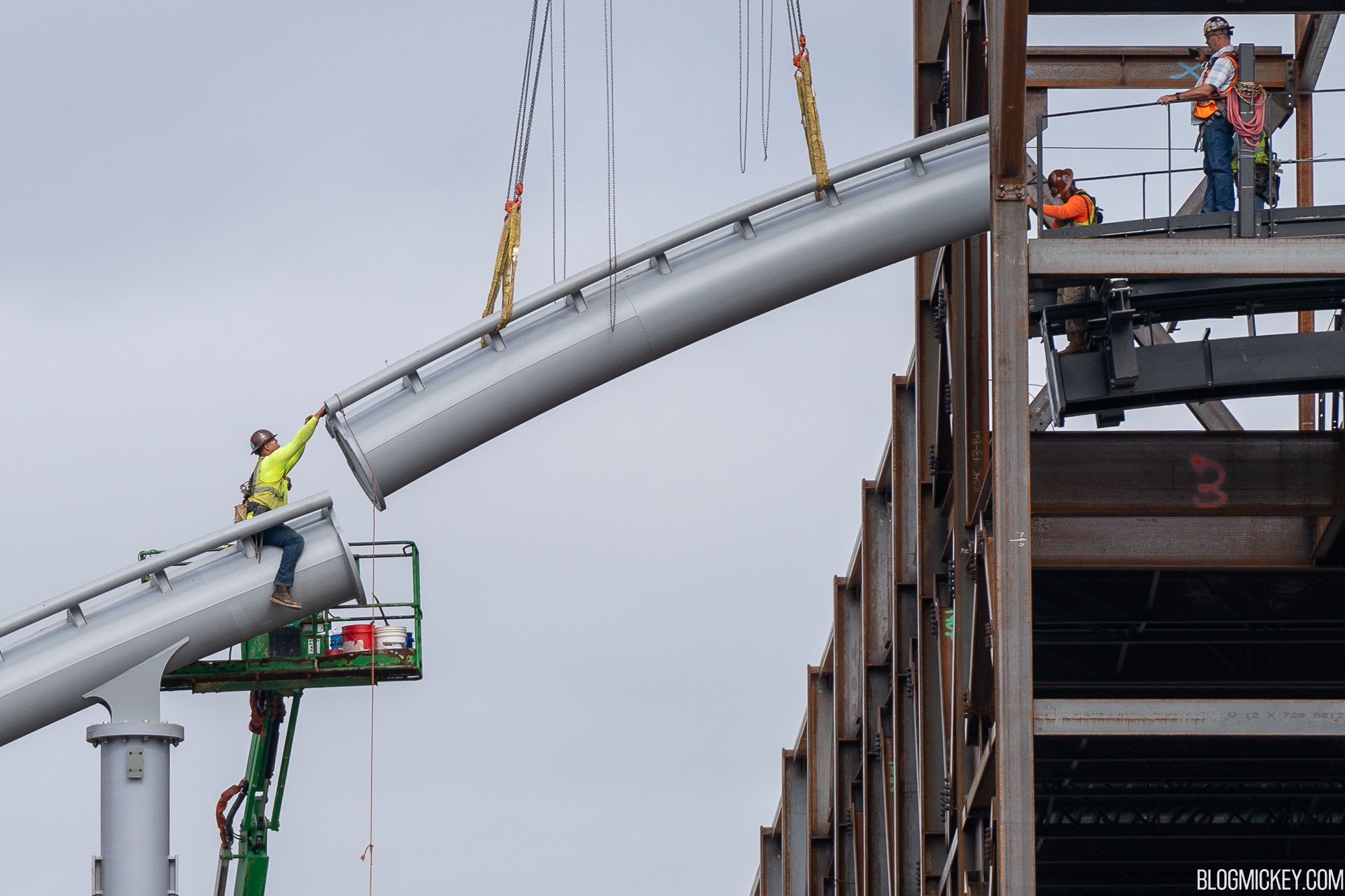 For example, in our latest TRON Lightcyle Run construction update, we linked back to a Disney Parks blog article written by Jennifer Fickley-Baker that says that the roller coaster will be open "in time for Walt Disney World's 50th Anniversary in 2021". That seemingly won't happen.
50th Anniversary "Seasons"
Instead of getting everything done on time, Disney has hinted at different "seasons" within the 18-month timeline for the 50th Anniversary.
What will likely happen, although it's unconfirmed, is that various attractions and experiences will open throughout the 18-month anniversary as Disney creates different "seasons". Here's the Walt Disney World tweet that mentions an "opening season".
New Experiences Planned to Open During 50th Anniversary
For the past few years, Disney has promised to debut various upcoming attractions and experiences as part of their Disney World 50th Anniversary plans. Let's take a look at what was promised to debut in time for the 50th Anniversary on October 1, 2021.
Guardians of the Galaxy: Cosmic Rewind
TRON Lightcycle Run
PLAY! Pavilion
Main Street USA Theater (cancelled)
Reflections: A Disney Lakeside Lodge (cancelled)
Remy's Ratatouille Adventure*
Disney Genie mobile app (unknown status)
"Coco" scene added to Mickey's Philharmagic*
Wondrous China*
*Not originally announced as a 50th Anniversary addition
New Experiences Confirmed to Open During 50th Anniversary
So far, Disney has officially the following new experiences that will debut on October 1, 2021.
Disney Enchantment Nighttime Spectacular
Perhaps the biggest announcement so far has been that of the all-new Disney Enchantment nighttime spectacular coming to Magic Kingdom on October 1, 2021. Here are the details!
Remy's Ratatouille Adventure
While not an original 50th Anniversary celebration addition, Remy's Ratatouille Adventure was just a few short months away from opening before the COVID-19 pandemic hit. Disney had already announced a summer 2020 opening timeframe, although an exact date wasn't announced.
Now, Remy's Ratatouille Adventure sits empty, but complete as Disney holds off on opening the new attraction this spring or summer – instead opting to hold onto it as the lone new attraction for the "opening season" of the 50th Anniversary celebrations.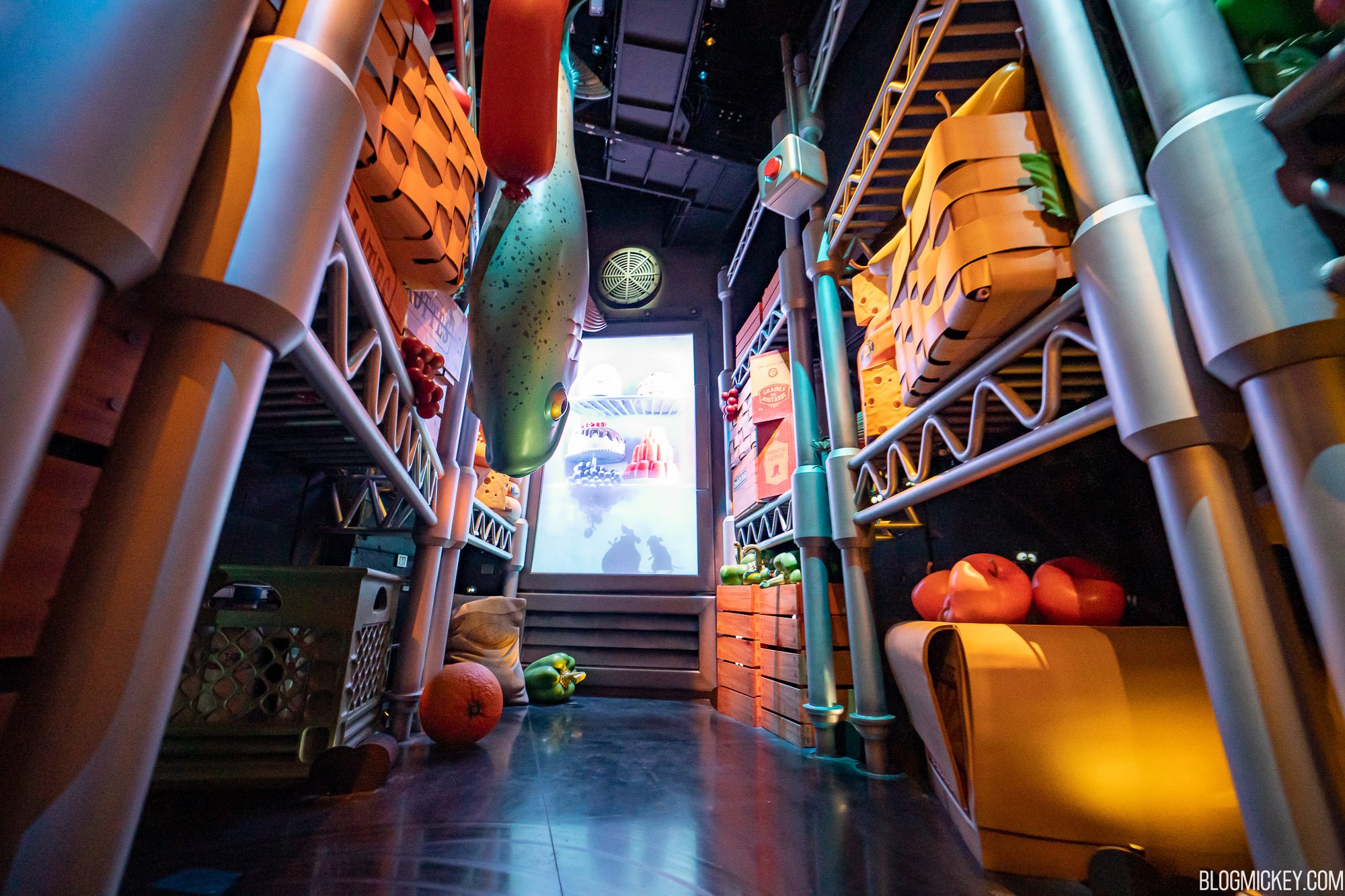 "Coco" Scene Added to Mickey's Philharmagic
With new offerings a bit lighter than Disney expected, Disney has held back the new Coco scene for Mickey's Philharmagic to debut on November 12th as a 50th Anniversary offering.
Beacons of Magic
On the entertainment front, Disney will be debuting all-new projections on the four Disney World park icons. These new projections are collectively called Beacons of Magic, and are meant to tie all four of the parks together "beckoning all to come and celebrate".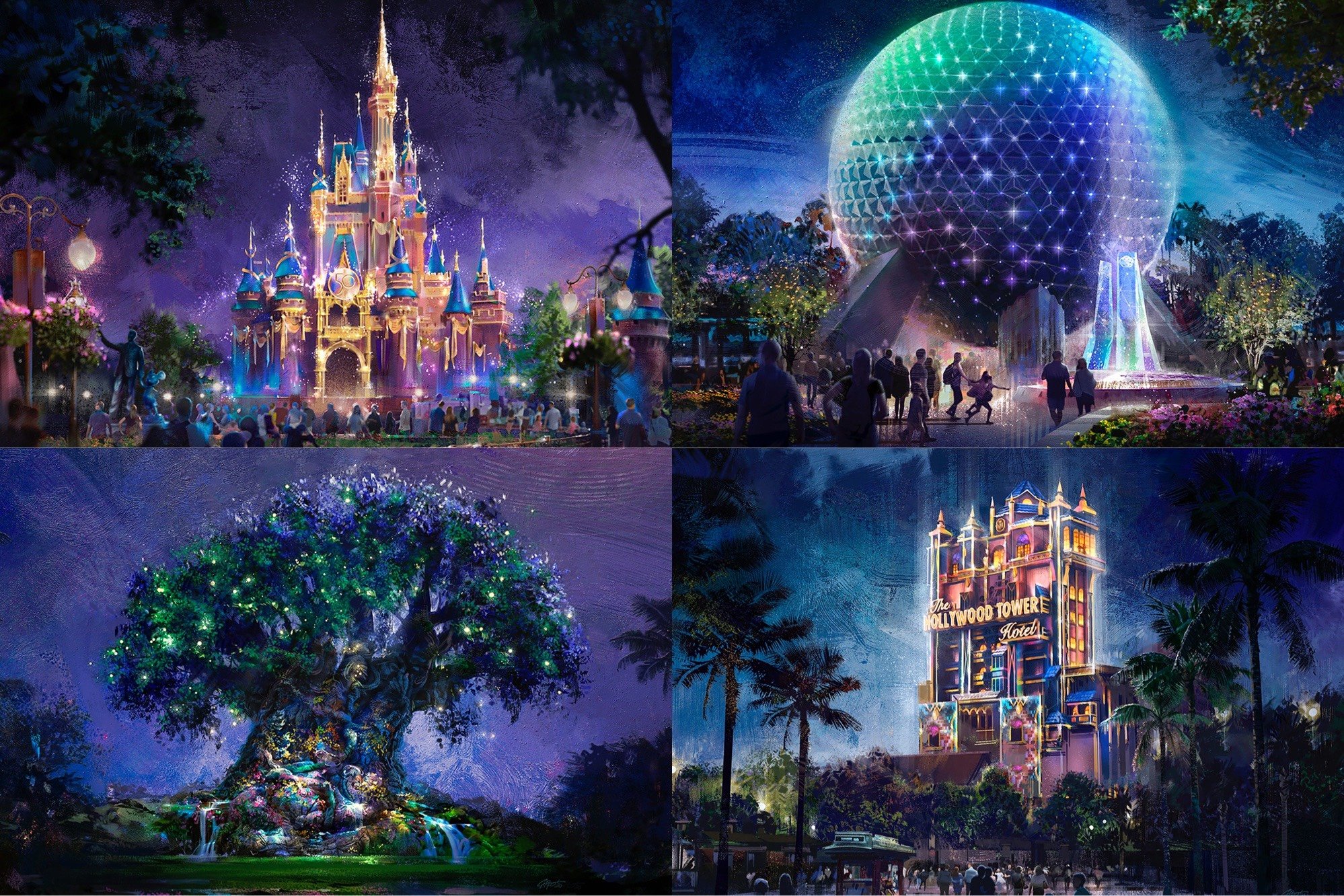 We anticipate that as more positive news about the COVID-19 vaccine rollout continues, Disney will announce more Disney World 50th Anniversary plans, but whether or not that means creating a more robust lineup for October 1, 2021 remains to be seen.
Harmonious
Disney has announced that Harmonious will be debuting on October 1, 2021. While we expect that this show will last long past the 50th Anniversary celebrations, guests visiting during the opening season of the anniversary will be among the first to experience the all-new EPCOT show.
Disney KiteTails Daytime Show
Disney KiteTails is an all-new daytime show that will take place at Disney's Animal Kingdom multiple times per day. Disney KiteTails debuts October 1, 2021.
EPCOT Neighborhoods Debut
On October 1, Disney will officially switch from "Future World" naming conventions into four "neighborhoods" that will define the EPCOT experience moving forward.
Disney World 50th Anniversary Enhancements
Beyond the new attractions and experiences, Disney World is receiving a flurry of enhancements around the resort to make it feel brand new.
Cinderella Castle 50th Anniversary Decorations
On July 23rd, Disney added the "50" crest to Cinderella Castle at Magic Kingdom, completing the anniversary decor. Here's a detailed look at the new crest and final look at the decorations that will be in place for 18 months.
Magic Kingdom Parking Plaza
The Magic Kingdom parking plaza received a brand new color scheme focusing on the blues and gold found at Cinderella Castle.
The Transportation and Ticket Center will likely receive the new color scheme as well.
Disney World Main Entrances
The Disney World main entrances have undergone a transformation into a new look that is more consistent with the new color scheme at the Magic Kingdom parking plaza.
Fantasyland Enhancements
Various Fantasyland attractions and locations are receiving touchups. Everything from new coats of paint to gold leaf additions.
New Character Costumes
As part of the 50th Anniversary celebrations, Mickey Mouse and Minnie Mouse will have all-new costumes!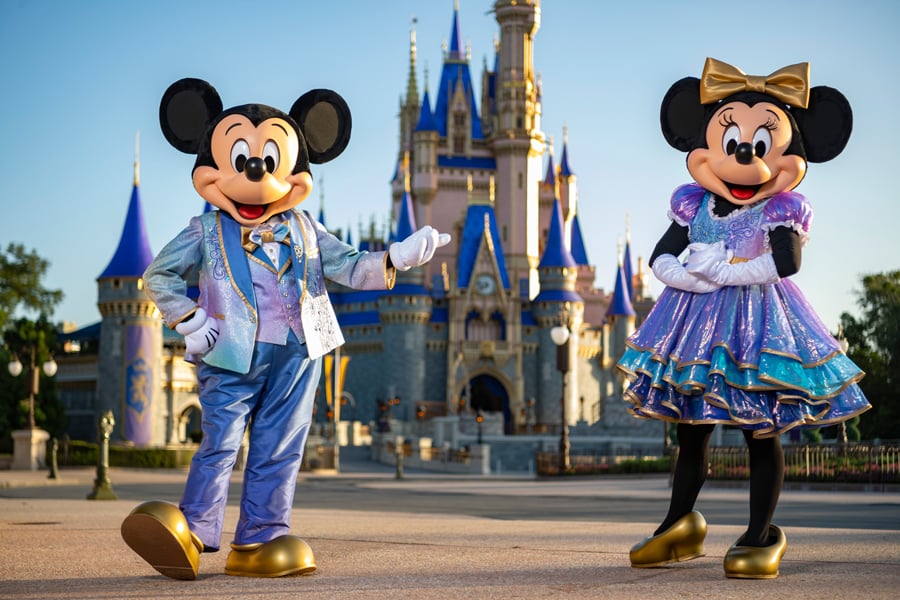 Disney Fab 50 Character Collection
New "Disney Fab 50 Character Collection" golden sculptures are spread across the four Walt Disney World theme parks in honor of the 50th anniversary.
New Spaceship Earth Lighting Package
While each of the Walt Disney World park icons will shine with projection effects as part of the "Beacons of Magic" offering, Spaceship Earth is receiving an all-new nighttime lighting package that will debut on October 1, 2021. "Points of Light" will shine in a "poetic and inspirational" lighting package that will last beyond "The World's Most Magical Celebration".
Celebratory Food and Drinks
During its 50th anniversary celebration, Walt Disney World once again demonstrates how food and drinks can be key ingredients for a fun day at The Most Magical Place on Earth. New menu items for the celebration offer nods to the resort's past while pushing culinary adventures to exciting new places.
50th Anniversary Addition to Electrical Water Pageant
Disney will add new scenes and music to the Electrical Water Pageant.
Disney World 50th Anniversary License Plate
Disney World has even announced a new license plate for Florida residents to purchase as part of the 50th Anniversary celebrations.
As always, keep checking back with us here at BlogMickey.com as we continue to bring you the latest news and photos from around the Disney Parks!