As we continue to keep an eye on Disney Genie+ at the Walt Disney World Resort, we wanted to put together a series of articles containing our Disney Genie+ wishlist – changes we'd wish Disney would make to the system to ease guest confusion. No, our articles won't ask that Disney brings back FastPass or gets rid of Genie+ for good (it's here to stay). Instead, we'll talk about some of the friction we experience with the system. Today, we'll start with something that would make a lot of guests' experience easier – the ability to swap or modify a selection.
Let's use an example at Disney's Hollywood Studios – a park that requires the most stringent maintenance of your Genie+ schedule. Using the priority list from our recent Genie+ stacking article, let's say that we were not able to secure a Lightning Lane for Millennium Falcon: Smugglers Run. Instead, we grabbed a Tower of Terror return time. If we were having a drink at BaseLine Tap House (and why wouldn't we?) and noticed that Smugglers Run was available, we couldn't click on Smugglers Run right away. We'd have to go to our Tower of Terror Lightning Lane selection, cancel it, and hope that the Smugglers Run return time was still available. In total, this could be a 10-15 second process, or longer depending on your familiarity with the app and process. Unfortunately, that amount of time could (and will) lead to the selection that you previously saw disappearing from the app. That means that not only are you not going to get the new selection, but you had to cancel your old selection as well.
What we'd like to see instead is the ability to secure that Smugglers Run return time when you see it and a prompt asking us if we'd like to drop our Tower of Terror selection for a new selection.
The ability to modify a skip-the-line selection was present in the old FastPass+ system but dropped off with the introduction of Lightning Lane. How did it use to work? You would simply click on one of your existing FastPass+ reservations and then click a "modify" button. From there, you would have not only a full list of attractions to modify to, but also a list of different times for your current attraction selection that you're modifying from – all pending availability.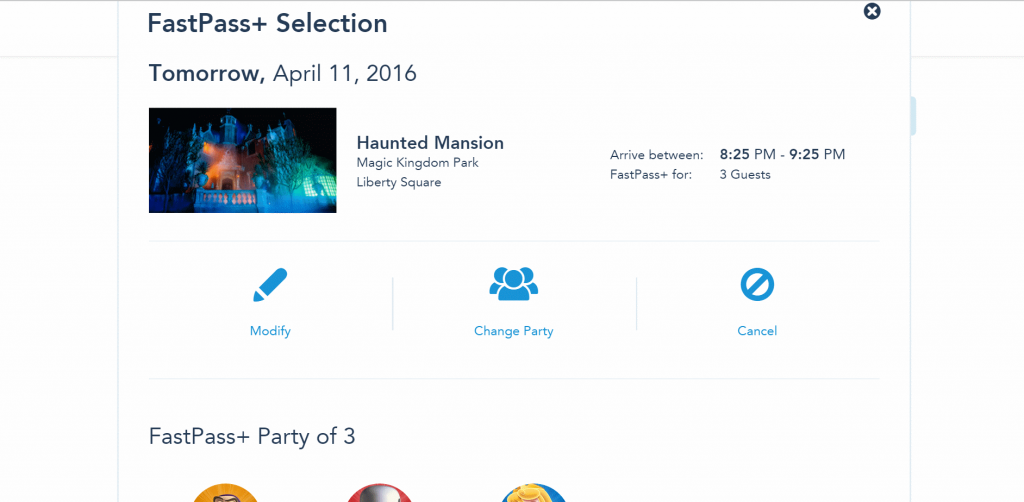 Now, with Lightning Lane and Genie+, guests are paying $15 per person, per day and the offering is more difficult to use than the free FastPass+. To be clear, you can still cancel a Lightning Lane reservation and make a different selection, but there is no way to modify or swap an existing selection. Being able to make a better selection for your day without stranding yourself by canceling an existing reservation first would make the app better, in our opinion.
As always, keep checking back with us here at BlogMickey.com as we continue to bring you the latest news, photos, and info from around the Disney Parks!