To wrap up our late June aerial tour, we'll take a look at the work being done on the north end of Disney's Caribbean Beach Resort. First, let's take a look at the permitted plans for the space.
A wide look at the plans as seen by a permit filed with the state.
For this construction update post, we're focused on the north end of the resort, or the space occupied on the left-hand side of the permit.
There has been much discussion about the large building highlighted below in green, but the consensus seems to be that we can expect a high-rise tower of sorts with a high-capacity of guest rooms.
Another item in our aerial coverage below is the building highlighted in red in the following photo. This is believed to be a turn building and possible load station for a Caribbean Beach Resort connection to the upcoming gondola system. The large rectangular building on the right of the permit is believed to be an essential building to the gondola system.
With the stage set by the above permits, lets jump into the construction photos.
Here's a look at the construction site as we approached from the northeast. Much of the work that has been done is the removal of the existing structures. There are a few standing structures in the bottom of the photo that still need to be demolished.
A view from nearly on top of the construction highlights a couple of points of interest. First is the aforementioned structures waiting to be demolished in the extreme right of the photo. Next is the area on the far left side of the construction site. This is the area reserved for the gondola turn station and possible load station. It will be an amazingly convenient way for guests of the resort to get to both Disney's Hollywood Studios and Epcot.
The next photo was taken on our return and shows the construction site from the southwest, looking northeast. You can see the gondola site in the left foreground and the demolition site in the right background.
Our last look shows a portion of the construction site, but illustrates the massive size of the project in relation to Centertown in the top of the photo (which is also closed for renovation).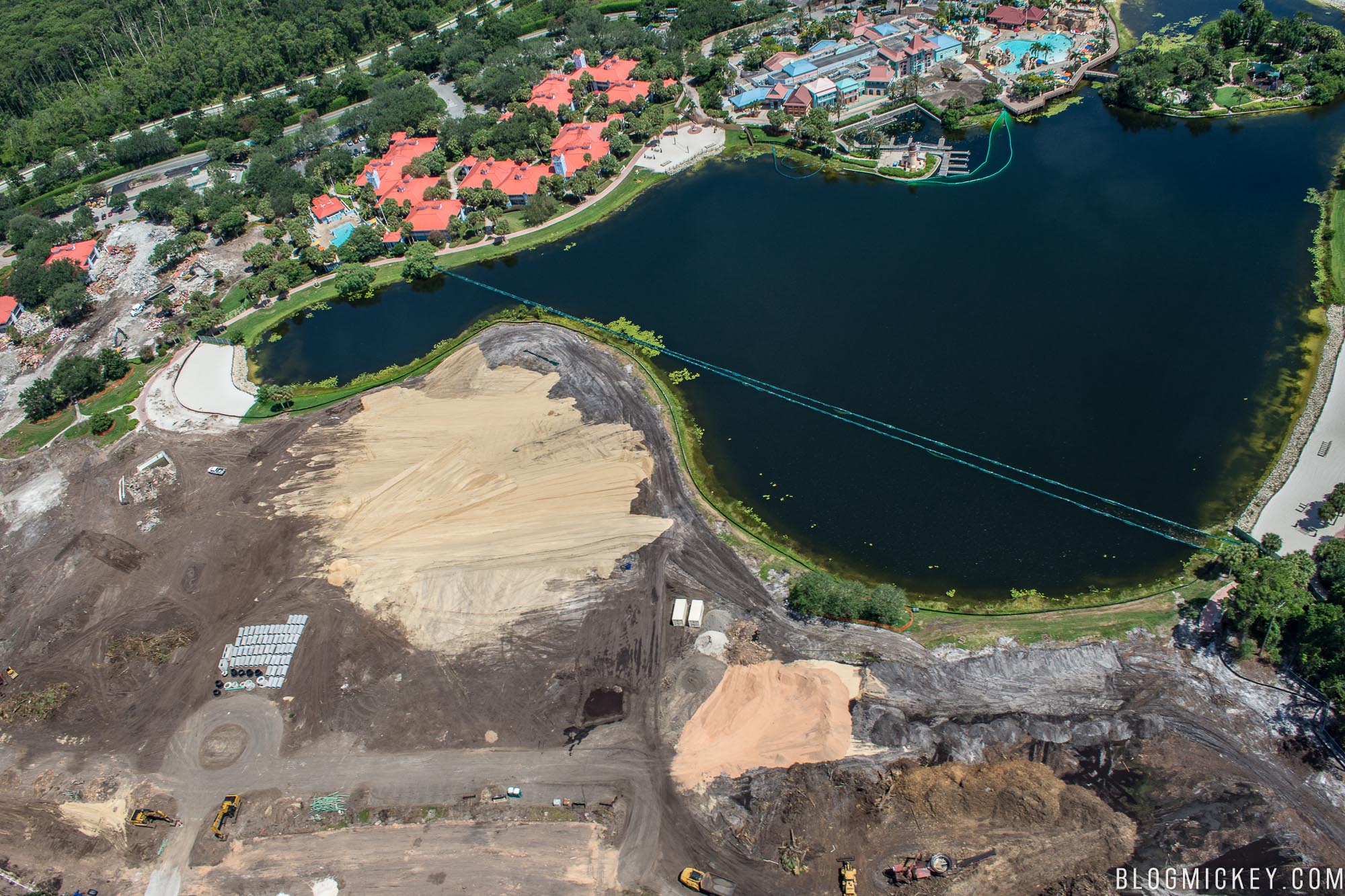 We'll be sure to include this massive expansion of Caribbean Beach in future aerial flight updates on Blog Mickey as we watch the tower rise out of the ground.