UPDATE: Reservations are now available. Our original article continues below.
---
Around 5:15am this morning, very limited availability of Roundup Rodeo BBQ dining reservations were made available. Reports on social media combined with our own research suggested that the vast majority, or possibly even all reservations, were limited to March 23rd which is opening day. Some guests reported making successful reservations, but the vast majority of guests either were unable to make a reservation or there was no availability for the date and time they were searching for.
A little more than an hour after reservations opened, both the My Disney Experience app and the Walt Disney World website were updated to remove the button that allowed guests to make reservations. Since then, both the website and the app were rolled back to display a message that advised guests to "check back on February 21, 2023 for information on how to book reservations".
During the 6am hour, other Walt Disney World restaurants either showed no availability or inconsistent availability, presumably as a result of changes made to the backend of the website following the botched rollout of Roundup Rodeo BBQ reservations.
No further updates have been issued by Disney World following the technical problems earlier today, but we would recommend checking the My Disney Experience app and/or Walt Disney World website throughout the day in the hopes that Disney is able to fix whatever problems led to the fumbled rollout of reservations this morning.
Here's our original article from earlier this morning when reservations went live. It also includes details on pricing for Roundup Rodeo BBQ restaurant in Toy Story Land.
Roundup Rodeo BBQ Story
Discover what it feels like to be one of Andy's honorary toys. At Roundup Rodeo BBQ, you will be surrounded by Andy's rodeo at play––everything from western towns and train station playsets. Plus, take a gander at images of popular characters, including a larger-than-life display of Jessie riding on the back of a Trixie pull toy! You can also view a scene of Bo Peep and her sheep posed to perform in the rodeo.
Using three cardboard boxes cut and taped together, Andy has created a new rodeo arena using some of his favorite toys, games, and play sets. And while some pieces are definitely western-themed, what makes this rodeo special is the broad assortment of toys that have been brought together to create a fun, colorful mashup atmosphere that only a child could create.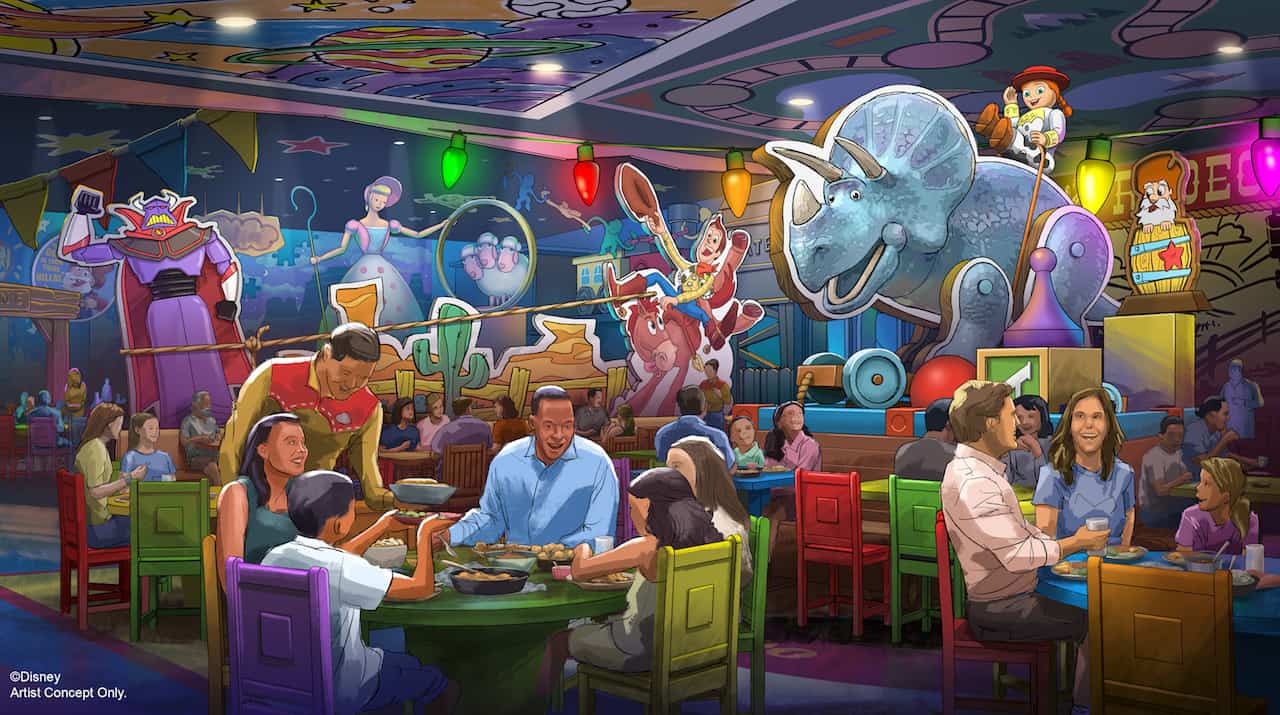 Once inside, you'll be surrounded by all of the rodeo festivities in action as well as western town and train station play sets. And you just might spot some of your favorite Pixar characters scattered throughout the restaurant in the form of toys and game pieces including a toy version of Jessie riding on the back of a Trixie pull-toy and unique toy versions of Bo Peep and her sheep, all who appear to be performing in the rodeo together.
As always, keep checking back with us here at BlogMickey.com as we continue to bring you the latest news, photos, and info from around the Disney Parks!